Vegetarian Hot and Sour Soup
Traditional hot and sour soup is meat-based, but this vegetarian version gets its protein boost from tofu and eggs.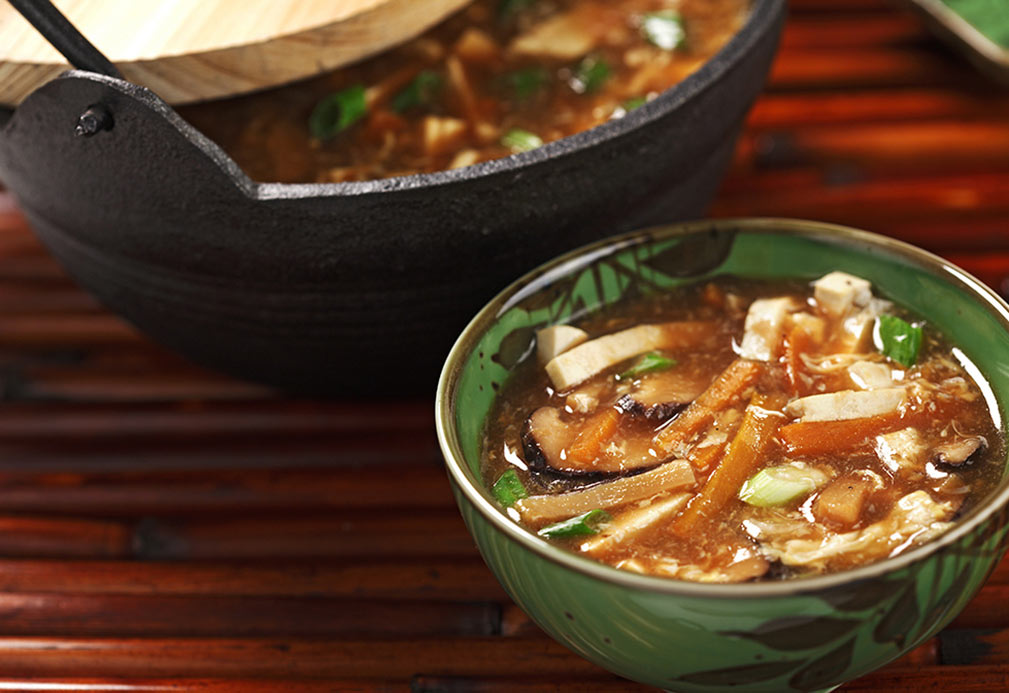 Ingredients
4 dried Chinese black (shiitake) mushrooms 
hot water
2 tsp canola oil 10 mL
1 carrot, peeled and julienned
5 cups vegetable broth 1.25 L
1/4 cup canned bamboo shoots, drained, julienned 60 mL
3 Tbsp cornstarch, dissolved in 1/4 cup cold water 45 mL
3 Tbsp low-sodium soy sauce 45 mL
1/3 cup rice vinegar 75 mL
3/4 tsp ground white pepper 4 mL
6 oz savory baked or firm tofu, julienned 170 g
2 eggs, lightly beaten
2 stalks green onion, thinly sliced
Instructions
1. In small bowl, soak dried mushrooms in hot water for 20 minutes or until softened. Cut off stems and any hard areas and discard. Cut caps into thin slices. Set aside.
2. In stock pot, heat canola oil over medium-high heat. Add mushrooms and carrots and cook 2 minutes or until carrots are just soft. Add vegetable broth and bamboo shoots and bring to a boil. Add cornstarch mixture and stir until soup thickens, about 2 minutes. Add soy sauce, rice vinegar and white pepper. Stir.
3. Add tofu and bring soup back to a boil. While stirring soup in circular motion in one direction, pour eggs in thin stream into soup.
4. Remove soup from heat. Stir in green onions. Taste and adjust flavor with rice vinegar and white pepper. Serve immediately.
Yield
8 servings
serving size
1 cup (250 mL)
nutritional analysis
Per Serving
Calories
80
Total Fat
3.5 g
Saturated Fat
0 g
Cholesterol
55 mg
Carbohydrates
8 g
Fiber
2 g
Protein
4 g
Sodium
450 mg