Vegetarian Portobello Mushroom Stack Over Quinoa
Quinoa has a lighter, fluffier texture than most whole grains, and is a rich source of protein.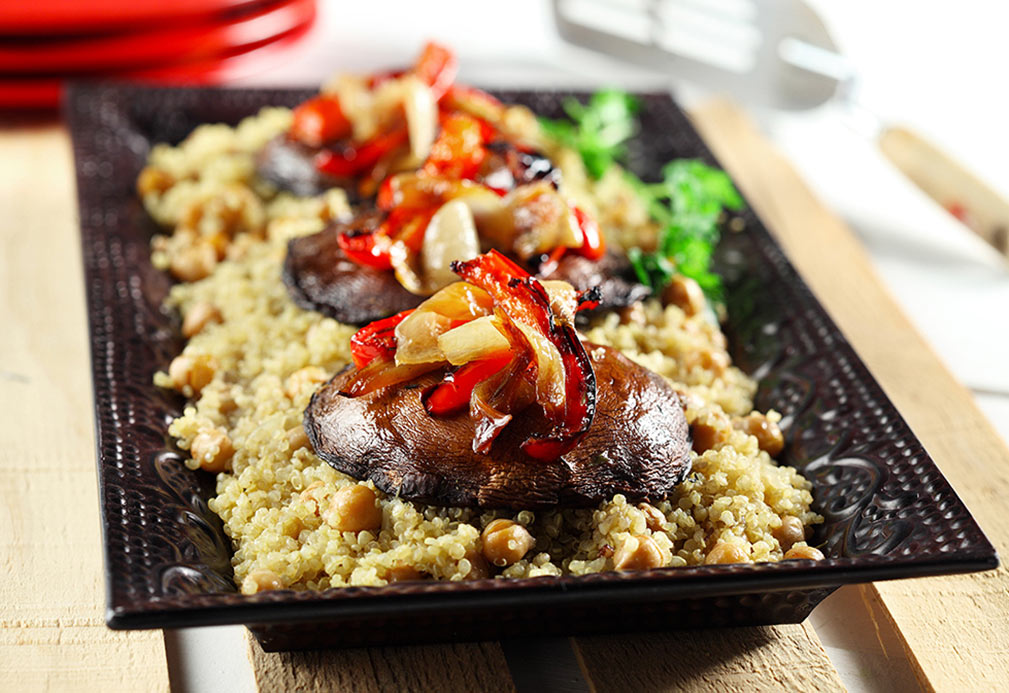 Ingredients
Quinoa
1 tsp canola oil 5 mL
1/4 large sweet onion, chopped
2 cloves garlic, finely chopped
1 cup uncooked quinoa, rinsed 250 mL
1 tsp cumin 5 mL
2 cups low-sodium vegetable broth 500 mL
Mushroom Stack
2 cloves garlic, finely chopped
1/2 tsp dried thyme 2 mL
2 Tbsp sherry wine vinegar 30 mL
2 Tbsp balsamic vinegar 30 mL
1 Tbsp canola oil 15 mL
1 red pepper, cored and sliced lengthwise
4 portobello mushrooms, stems removed and rinsed
1 cup cooked chickpeas 250 mL
1/2 Tbsp canola oil 7 mL
1 large sweet onion, sliced into half moons
1/4 tsp salt 1 mL
Instructions
1. Preheat oven to 350° F (180 °C). To prepare quinoa, in 2-quart (2.25 L) saucepan, heat canola oil over medium heat. Add onion and garlic and sauté 2-3 minutes. Add quinoa and cumin, sauté another minute. Add vegetable broth and bring to boil. Cover pan, reduce heat to low and simmer 10-15 minutes until liquid is absorbed.
2. To prepare mushroom stack, in small bowl, whisk garlic, thyme, sherry and balsamic vinegars and 1 Tbsp (15 mL) canola oil. Dip red pepper slices in marinade and place on small baking sheet. Dip each mushroom in marinade, coating both sides, and place on half of large, parchment-lined baking sheet. Toss chickpeas in remaining marinade and place on other half of large baking sheet. Bake all 30 minutes, turning mushrooms and red pepper and tossing chickpeas once halfway through.
3. Set mushrooms and red peppers aside and add chickpeas to cooked quinoa.
4. In large sauté pan, heat 1/2 Tbsp (7 mL) canola oil over medium-high heat, add sliced onions and toss to coat with oil. Cook 7-8 minutes, sprinkle with pinch of salt and cook 10-12 minutes longer, stirring frequently until caramelized (onions will be a rich brown and smell sweet).
5. To serve, place 1 cup (250 mL) quinoa on each plate, top with one portobello mushroom (gill side down), three or four slices red pepper and caramelized onion.
Yield
4 servings
serving size
1 cup (250 mL) quinoa and 1 mushroom stack
nutritional analysis
Per Serving
Calories
370
Total Fat
10 g
Saturated Fat
1 g
Cholesterol
0 mg
Carbohydrates
55 g
Fiber
10 g
Protein
13 g
Sodium
320 mg