Wheat Berry and Apple Salad
This whole-grain side dish offers crunch with a refreshing taste. Canola oil is the perfect base for a salad dressing with its light texture and neutral flavor.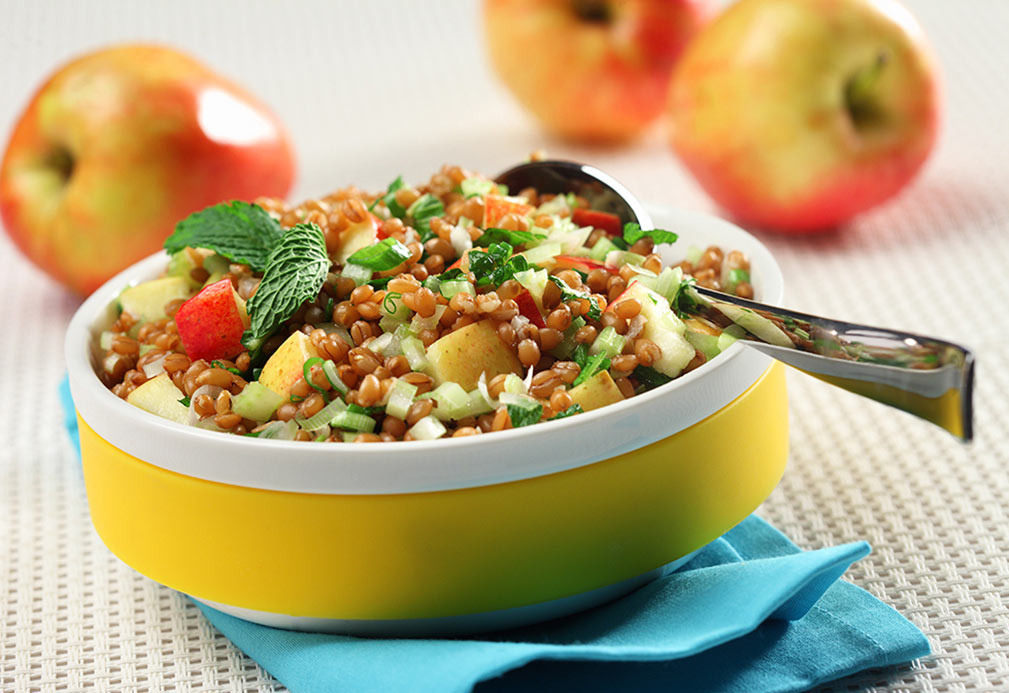 Ingredients
Salad
1 cup wheat berries 250 mL
1/2 tsp salt 2 mL
3 cups water 750 mL
1 cup finely chopped celery 250 mL
2 cups finely chopped apple, preferably Cortland or Jonagold (skin on) 500 mL
1/2 cup finely chopped fresh mint 125 mL
1/2 cup finely chopped green onion 125 mL 
Dressing
2 Tbsp canola oil 30 mL
3 Tbsp apple cider vinegar 45 mL
2 Tbsp apple juice 30 mL
1 Tbsp honey 15 mL
2 tsp finely minced fresh ginger 10 mL 
Instructions
1. In glass or ceramic bowl, place wheat berries. Cover with 2 inches (5 cm) water and let sit overnight in refrigerator to soften. In morning, drain water. Place berries in small saucepan, add salt and 3 cups (750 mL) water. Bring to a boil and then reduce heat and simmer for about 45-55 minutes or until tender. Drain any excess water and place berries in large mixing bowl.
2. Add celery, apples, mint and green onion and stir to combine.
3. In small bowl, whisk canola oil, vinegar, apple juice, honey and ginger together. Pour over salad. Flavors improve if salad is refrigerated for up to 4 hours prior to serving. 
Yield
8 servings
serving size
3/4 cup (175 mL)
nutritional analysis
Per Serving
Calories
150
Total Fat
4 g
Saturated Fat
0 g
Cholesterol
0 mg
Carbohydrates
25 g
Fiber
4 g
Protein
4 g
Sodium
160 mg