Zucchini Squash Soup with Basil Pistou Croutons
This creamy purée of zucchini has just a hint of lemon to enhance its simple, garden fresh flavors. Canola oil's mildness helps keep them clean and bright. Served with a crisp crouton topped with basil pistou, a Provençal-inspired sauce, the soup makes an ideal light lunch or elegant beginning to a special dinner.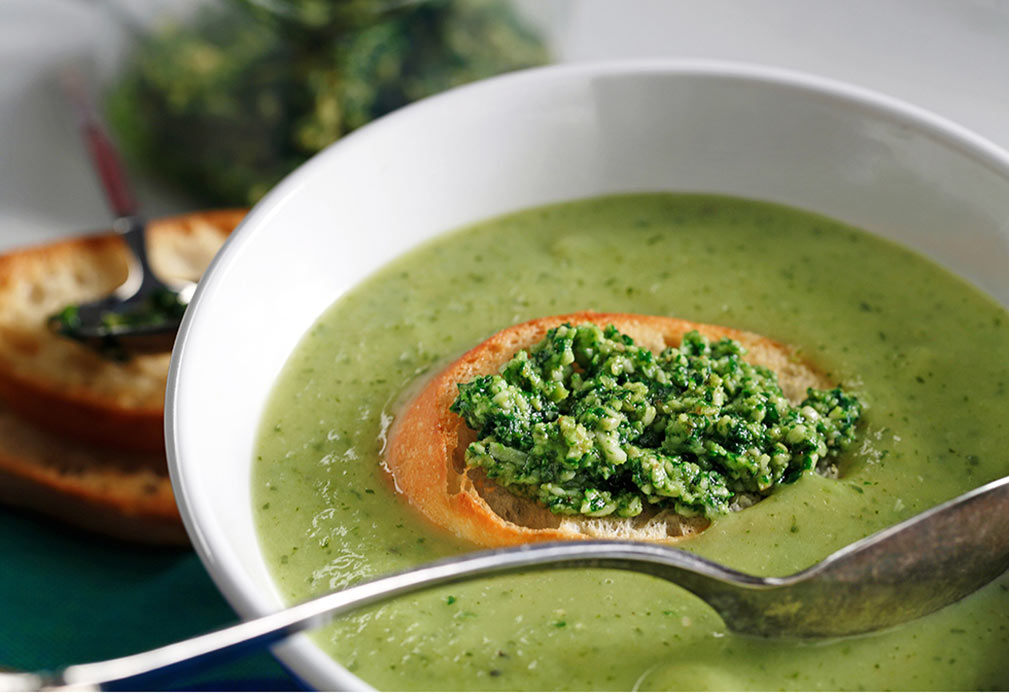 Ingredients
Croutons
canola oil cooking spray
6 slices (1/4-inch/0.6-cm thick) baguette
2 teaspoons canola oil 10 mL
Basil Pistou
1 garlic clove
1 Tbsp water 15 mL
1/4 cup grated Parmesan cheese 60 mL
1 cup (packed) fresh basil leaves 250 mL
1/8 tsp salt 0.5 mL
1/8 tsp ground black pepper 0.5 mL
2 Tbsp canola oil 30 mL
Soup:
4 medium zucchini or summer squash (about 1 lb/500 g)
2 Tbsp canola oil 30 mL
1 cup diced onion 250 mL
1/2 tsp salt 2 mL
1/4 tsp ground black pepper 1 mL
3 cups reduced-sodium chicken broth 750 mL
1 1/2 Tbsp fresh lemon juice 20 mL
Instructions
1. For croutons: Preheat oven to 400 °F (200 °C). Spray baking sheet with canola oil cooking spray. Brush baguette slices on both sides with oil. Place on baking sheet and cook until crisp and golden brown, about 10 minutes.
2. For pistou: In blender with motor running, drop garlic through feed tube. Turn off motor and add remaining pistou ingredients. Process to a smooth paste. Turn off motor, scrape down sides of bowl and push ingredients to bottom of blender periodically. When completely smooth, place in refrigerator in air-tight container until needed (for up to 3 days). Just before serving, stir to recombine.
3. For soup: Trim squash and cut into 2-inch (5-cm) pieces. In large saucepan, heat oil over medium-high heat. Add onions, salt and pepper and sauté until tender, about 5 minutes. Stir in squash and cook until just beginning to soften, about 5 minutes more.
4. Add broth and bring to a boil. Reduce heat, cover and simmer until squash is completely tender and beginning to break down, about 15 to 20 minutes.
5. In blender, carefully process soup until smooth. (Do not fill blender more than halfway full. Process in batches, if necessary.) Return soup to pan and bring to a simmer. Remove from heat and stir in lemon juice. Taste and season as needed with salt and pepper.
6. To serve: Spread generous layer of pistou on each crouton and float one on top of each steaming bowl of soup. Serve immediately.
Yield
6 servings
serving size
1 cup (250 mL) soup, 1 crouton, 2 tsp (10 mL) pistou.
nutritional analysis
Per Serving
Calories
180
Total Fat
13 g
Saturated Fat
1.5 g
Cholesterol
5 mg
Carbohydrates
12 g
Fiber
2 g
Sugars
4 g
Protein
6 g
Sodium
400 mg
Potassium
406 mg