Fondue Bourguignonne
Burgundian fondue or fondue bourguignonne involves cooking vegetables, raw meats and / or seafood in a pot of simmering oil which are then served with a variety of delicious sauces.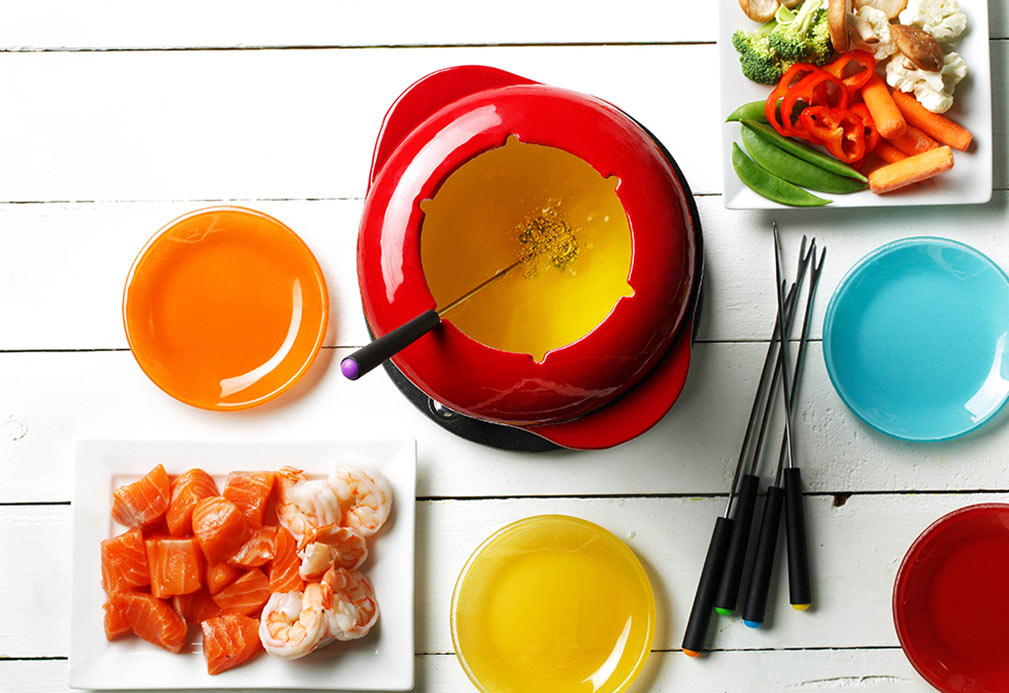 INGREDIENTES
6 cups raw vegetables* of your choice, cut into bite-sized pieces 1.5 L
1 lb shrimp, deveined and shelled 500 g
3 boneless, skinless chicken breast, cut into small cubes or strips
1 lb beef tenderloin, cut into small cubes or strips 500 g
3 cups canola oil 750 mL
INSTRUCCIONES
1. Wash, trim, and cut vegetables into bite-size pieces. Hard vegetables may be parboiled for 1-3 minutes prior to fonduing to reduce the fondue cooking time. Place vegetables onto individual platters, cover and refrigerate until ready to use.
2. Remove all visible fat from meat. Cut meat into bite-size pieces. Meat may be marinated for several hours prior to cooking in a fondue. Thoroughly wash seafood and cut into pieces. Arrange meat and seafood on individual platters, cover, and refrigerate until ready to use.
3. Heat canola oil in a fondue pot until very hot (375 °F/ 190 °C).
4. Spear small piece of vegetable, cubed meat and/or seafood with skewer, pushing skewer through so it protrudes by 1/2 inch (1.25 cm) at the other end. The skewer can now rest on at the bottom of the pot, thus preventing food from sticking. Fondue until food is cooked through. Consult cooking time chart below.
5. Remove food from fondue fork. Using dinner fork, dip cooked food in variety of sauces. Enjoy!
Vegetable Ideas: pepper strips, zucchini slices, corn on the cob sections, onions slices, cauliflowerettes, broccoli flowers and stems, baby carrots, radishes, celery ribs, turnip sticks, mushroom caps, potato wedges, squash cubes or baby pea pods.
Fondue Cooking Times Chart:
Food Cooking Time:
• Vegetables: 3 to 5 minutes
• Meat: 1 to 2 minutes
• Seafood:  1 minute
Food Safety Tips: Two-hour rule - food should not be left at room temperature for more than two hours. Better yet, serve meat, poultry and seafood on beds of ice.
RINDE
6 servings
TAMAÑO DE LA PORCIÓN
approx. (6 Shrimp, 2 oz/60g Beef, 2 oz/60g Chicken & 1 cup/250 mL Vegetables)
ANÁLISIS NUTRICIONAL
Per Serving
| | |
| --- | --- |
| Calorías | 570 |