Artichokes with Mustard Tarragon Vinaigrette
Add some zing to your artichokes with this mustard tarragon vinaigrette. Canola oil-based dressings stay free-flowing in the refrigerator thanks to the oil's low saturated fat content.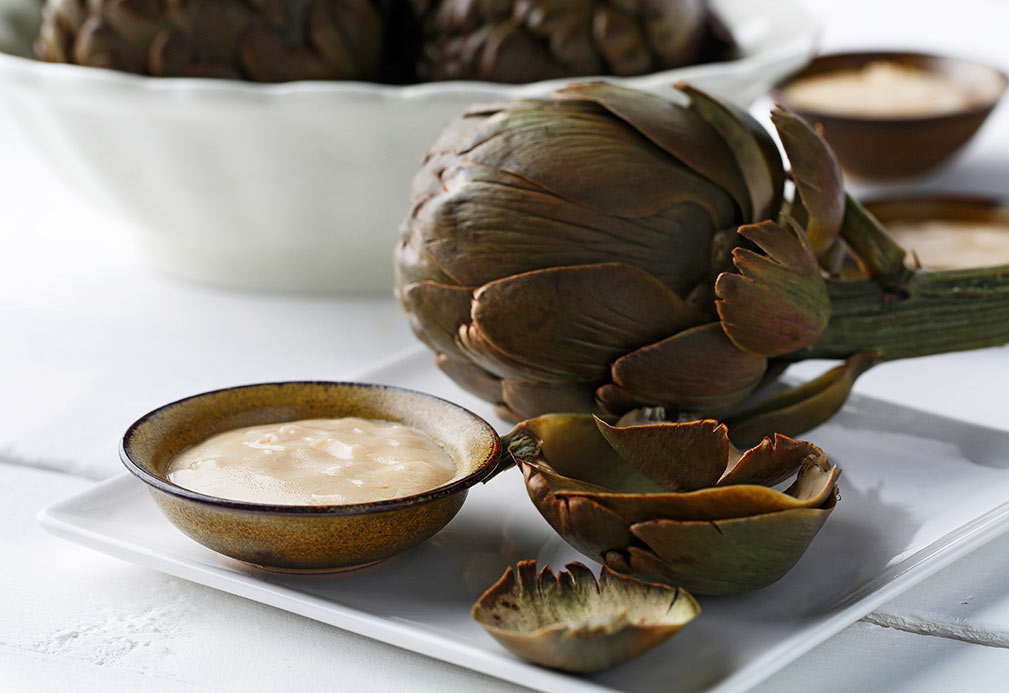 Ingredients
Mustard Tarragon Vinaigrette
1 shallot, minced
1 Tbsp red wine vinegar 15 mL
1/2 tsp salt 2 mL
2 Tbsp Dijon mustard 30 mL
1/3 cup canola oil 75 mL
2 Tbsp chopped tarragon 30 mL
1 Tbsp chopped parsley 1 mL
Artichokes
3 strips orange zest, white pith removed
1 Tbsp black peppercorns 15 mL
1 bay leaf
3 sprigs thyme
1 large sprig tarragon
1/2 tsp salt 2 mL
4 large artichokes
Instructions
1. To prepare vinaigrette: In small bowl, combine shallots with vinegar and 1/2 tsp (2 mL) salt. Let sit for 5 minutes to combine flavors. Add mustard and mix well. Slowly whisk in canola oil. Once canola oil has been incorporated, add tarragon and parsley. Set aside.
2. To prepare artichokes: In large pot, combine 2 cups (500 mL) water with orange zest, peppercorns, bay leaf, thyme, tarragon and 1/2 tsp (2 mL) salt and bring to a boil over high heat.
3. Set steamer basket on pot and arrange artichokes in basket. Reduce heat to a simmer and steam until artichokes are tender and pull away easily, about 45 minutes.
4. Serve artichokes hot or at room temperature with Mustard Tarragon Vinaigrette.
Yield
4 servings
serving size
1 artichoke with vinaigrette
nutritional analysis
Per Serving
Calories
214
Total Fat
19 g
Saturated Fat
1.5 g
Cholesterol
0 mg
Carbohydrates
11 g
Fiber
4 g
Sugars
2 g
Protein
3 g
Sodium
834 mg
Potassium
71 mg