Chocolate Cookie Sandwiches
Chocolatey cookie sandwiches filled with creamy vanilla frosting.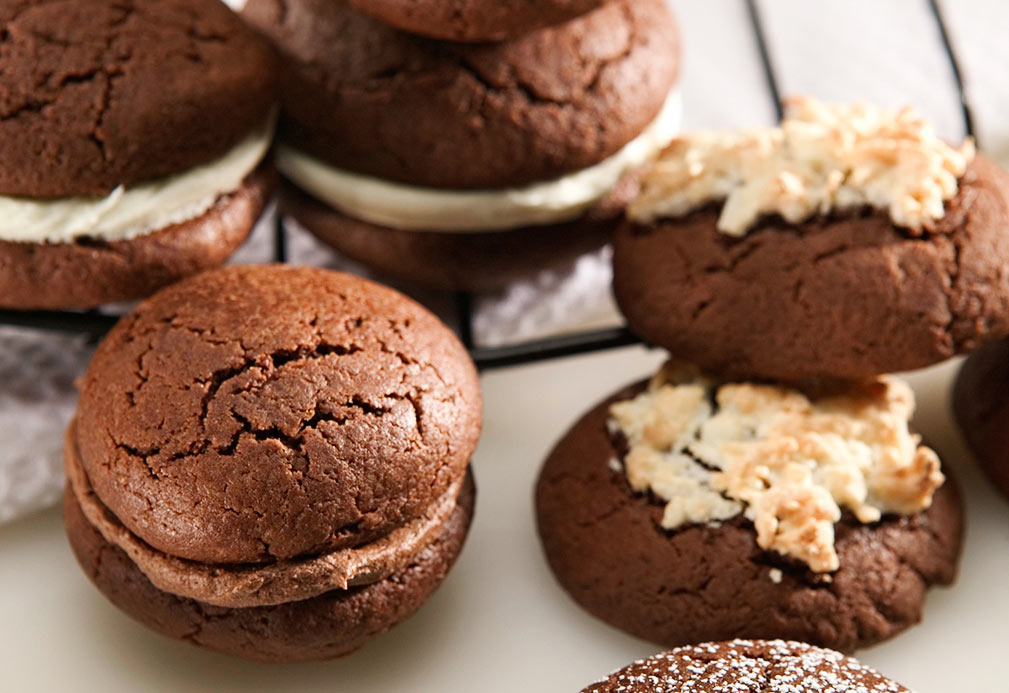 Ingredients
4 squares semisweet chocolate squares
1 1/2 cups granulated sugar 375 mL
3 Tbsp canola oil 45 mL
2 Tbsp milk 30 mL
2 tsp vanilla 10 mL
3 eggs
2 cups all purpose flour 500 mL
2 tsp baking powder 10 mL
4 oz cream cheese 125g
1/4 cup non-hydrogenated canola margarine 60 mL
1 tsp vanilla 5 mL
2 cups icing sugar 500 mL
Instructions
1. In microwave or heavy saucepan set over low heat, melt chocolate. Cool. In large bowl, combine sugar, canola oil, milk, vanilla, eggs and melted chocolate. Beat well.
2. Sift together flour and baking powder and add to chocolate mixture. Mix well. Cover and chill for 1-2 hours or until dough is easy to handle.
3. Preheat oven to 375 °F (190 °C). Shape dough into 1 inch balls. Place 2 inches 4. Bake for 10 to 12 minutes or until tops are lightly browned. Remove and cool on wire rack.
5. To prepare filling: In bowl, mix together cream cheese, canola margarine, vanilla and icing sugar. Beat until mixture is smooth and well combined. Place filling in between two cookies.
Yield
12 cookies
serving size
1 cookie
nutritional analysis
Per Serving
Calories
390
Total Fat
13 g
Saturated Fat
4 g
Cholesterol
65 mg
Carbohydrates
66 g
Fiber
<1 g
Protein
5 g
Sodium
150 mg