Lemongrass Cheesecake with Mandarin Oranges
An impressively rich-tasting version of a classic cheesecake, lightened up with a surprise ingredient that also adds protein - cottage cheese. In addition to Mandarin oranges, the light lemon flavor also pairs nicely with cranberries or blueberry sauce or other seasonal fruit.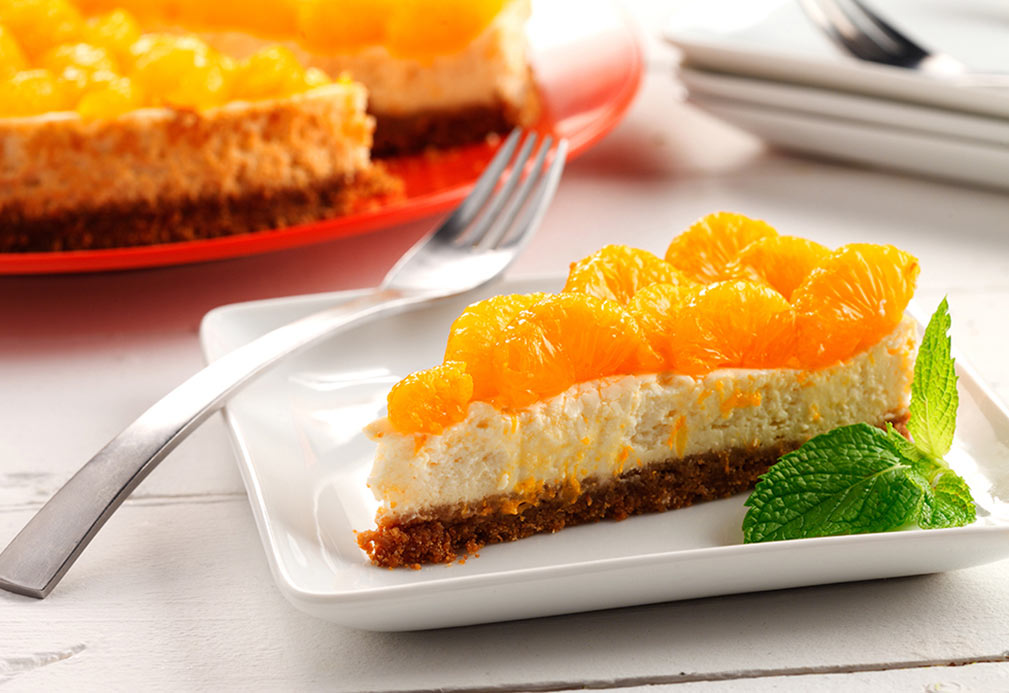 Ingredients
2 Tbsp canola oil 30 mL
2/3 cup graham wafer crumbs 150 mL
½ cup skim milk 125 mL
1 stalk fresh lemongrass, chopped (or 3 Tbsp / 45 mL) dried lemongrass)
2 cups low fat cottage cheese 500 mL
1 package (8 oz / 250 g) light cream cheese, at room temperature
2 eggs
1 Tbsp sucralose brown sugar blend 15 mL
1 Tbsp cornstarch 15 mL
1(10 oz / 284 mL) can mandarin oranges, packed in juice, drained 
Instructions
1. Preheat oven to 325 °F (165 °C). Place parchment paper in the bottom of a 9 inch (23 cm) springform pan.
2. Sprinkle graham crumbs into the pan and add canola oil. Carefully spread around and pressing down.
3. In a small saucepan on medium, heat milk. Add lemongrass and stir well. Bring mixture to low boil. Remove from heat and allow to stand for at least 20 minutes. Strain to remove lemongrass. Save milk.
4. In a blender or food processer, blend cottage cheese until smooth. Add cream cheese, milk, eggs, brown sugar and cornstarch and blend until smooth. Pour over crust.
5. Bake for 45 minutes or until set. Allow to cool then refrigerate for 4 hours. Remove from pan.
6. To serve, slice and garnish with mandarin orange segments and lemongrass, if desired. 
Yield
12 slices
serving size
1 slice
nutritional analysis
Per Serving
Calories
140
Total Fat
7 g
Saturated Fat
2.5 g
Cholesterol
45 mg
Carbohydrates
11 g
Fiber
1 g
Sugars
7 g
Protein
9 g
Sodium
240 mg
Potassium
72 mg