Sea Bass with Soba Noodles and Sake Soy Sauce
Each serving is wrapped up in parchment paper so when diners untie it, they are met with a burst of aromas and textures.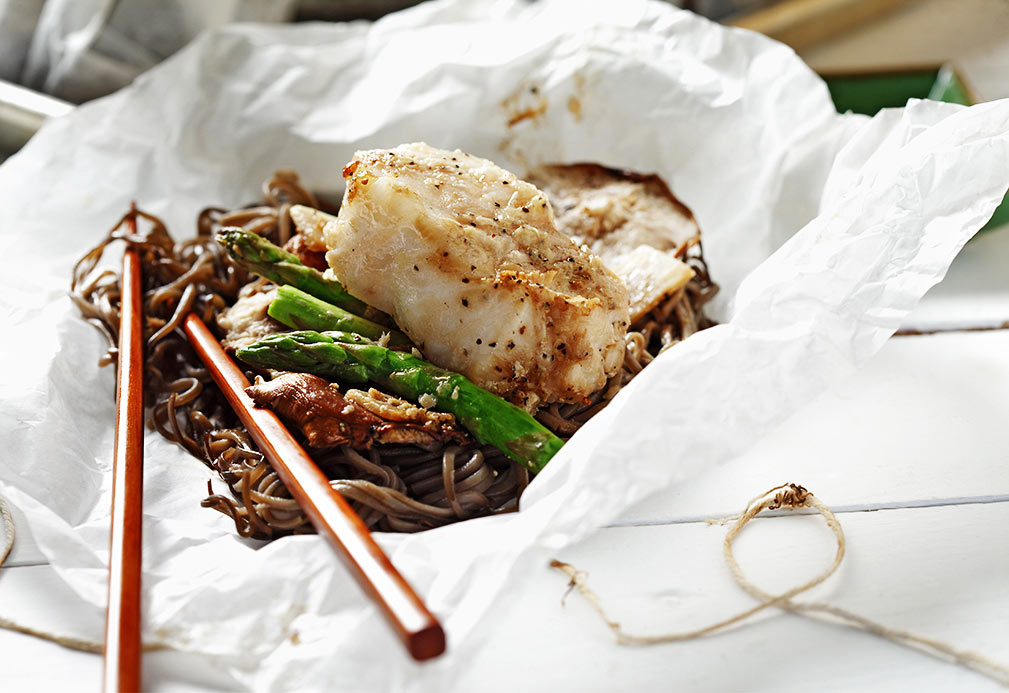 Ingredients
Sauce:
1/2 cup sake 125 mL
3 Tbsp sodium reduced soy sauce 45 mL
1 Tbsp canola oil 15 mL
2 tsp finely grated fresh ginger 10 mL
1/2 Tbsp finely minced garlic 7 mL
1/2 tsp black pepper 2 mL
Packets:
4 sheets parchment paper, 15 x 15 inches (38 x 38 cm)
6 oz pre-cooked soba noodles 170 g
16 fresh shitake mushrooms, stems discarded
1/4 cup bamboo shoots 60 mL
12 spears fresh asparagus, trimmed and cut in half
4 fresh sea bass fillets, scaled and skin removed, about 3 oz (90 g) each 
4 pieces butchers' twine, each about 8 inches (20 cm) long
Instructions
1. In bowl, combine sauce ingredients and stir until well-combined. Set aside.
2. Lay one sheet of parchment paper on table. Place one quarter of cooked soba noodles, 4 shitake mushrooms, bamboo shoots, 6 asparagus pieces and one piece of sea bass in center of parchment paper. Repeat three times.
3. Add 3 Tbsp (45 mL) sake-soy sauce and bring all sides of packet toward center to close. Tie air-tight with string. Repeat process three times until four packets are made. Place on baking sheet and bake at 400 °F (200 °C) for 15 to 20 minutes depending on thickness of the fish. Serve hot, instructing diners to unwrap parchment paper.
Yield
4 servings
serving size
1 fillet packet
nutritional analysis
Per Serving
Calories
320
Total Fat
7 g
Saturated Fat
1 g
Cholesterol
55 mg
Carbohydrates
27 g
Fiber
5 g
Sugars
6 g
Protein
31 g
Sodium
495 mg
Potassium
806 mg