Spicy Noodles Beijing
Recipe developed at The Culinary Institute of America by Chef Instructor Brenda La Noue. See Chef Almir Da Fonseca prepare the recipe in the video.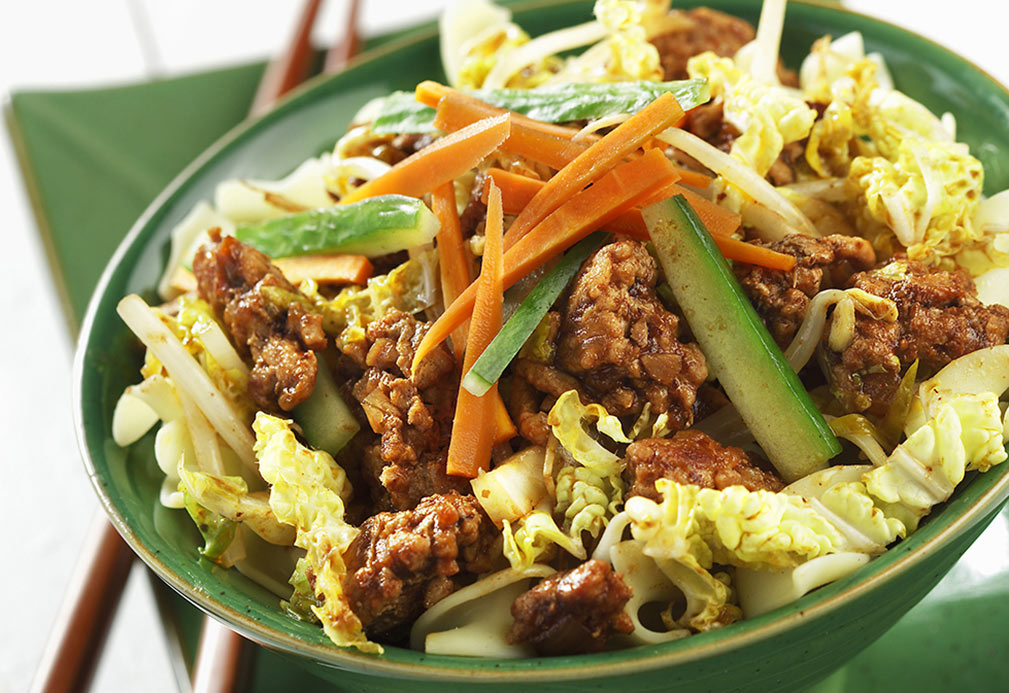 Ingredients
1/2 lb fresh egg noodles
1/2 lb ground pork
1 cup yellow onion, diced
1 Tbsp canola oil
1/2 head Napa cabbage, julienned
3 cups bean sprouts
1 Tbsp ground bean sauce
3 Tbsp chili paste with garlic, or any chili
Garlic sauce
1 tsp sesame oil
2 tsp Chiangking vinegar
1 tsp sugar
1 Tbsp dark soy sauce
2 tsp cornstarch
1/4 cup water
Garnish
1/2 cup carrot, thinly julienned
1/2 cup cucumber, thinly julienned
Instructions
1. Cook the noodles in a pot of boiling water until al dente. Rinse with hot water; drain. Transfer to a serving plate and cover to keep warm.
2. While the noodles are cooking, heat a wok until hot. Stir-fry the ground pork and onion in 1 Tbsp canola oil until the onion is translucent. Add the cabbage and bean sprouts and stir-fry for 1 more minute. Add the bean sauce and chili paste. Season with the sesame oil, vinegar, sugar, and dark soy sauce.
3. Add cornstarch to water. Add to sauce and heat through until sauce thickens. Adjust seasoning.
4. Top with carrot and cucumber and serve immediately with cooked noodles.
Yield
6 servings
serving size
1 cup
nutritional analysis
Calories
270
Total Fat
12 g
Saturated Fat
4 g
Cholesterol
45 mg
Carbohydrates
25 g
Fiber
4 g
Sugars
3 g
Protein
16 g
Sodium
640 mg
Potassium
365 mg