Warm Apple and Cranberry Sauce
Nothing beats cooking with apples and cranberries for the holidays and this homemade sauce combines the two fruits for a show-stopping side dish.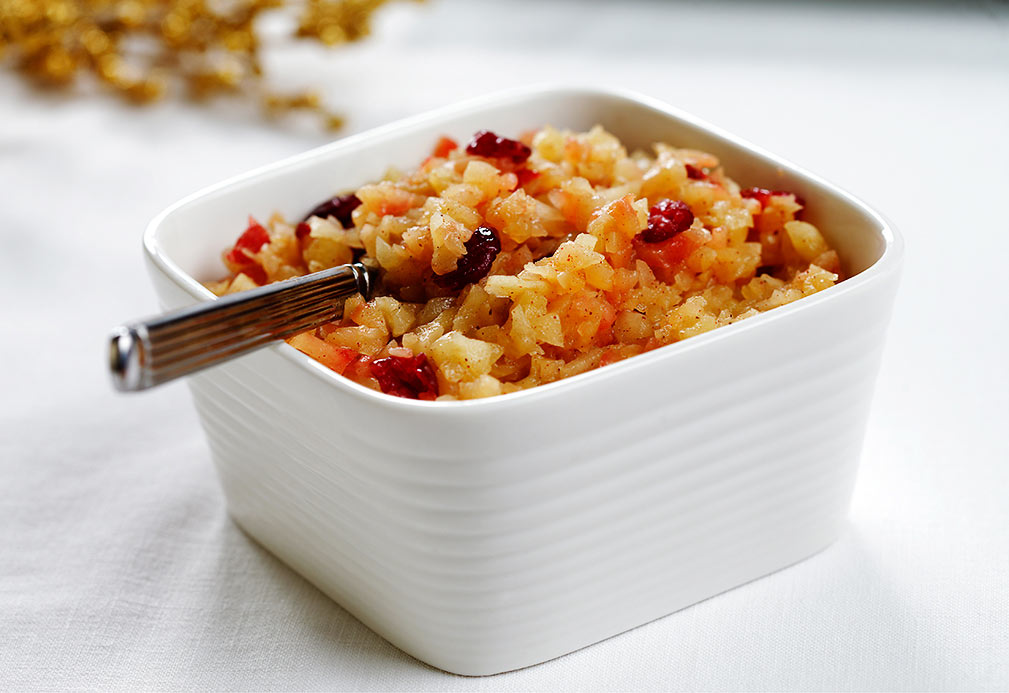 Ingredients
1 Tbsp canola oil 15 mL
4 large Fuji apples, about 2 lb (1 kg), cored, quartered lengthwise and cut into half-inch pieces
1/4 cup water 60 mL
1 Tbsp lemon juice 15 mL
1/2 tsp pure vanilla extract 2 mL
1/4 tsp ground cinnamon 1 mL
1/4 cup coarsely chopped dried cranberries 60 mL
1/8 teaspoon salt (optional) .5 mL
Instructions
1. In large, heavy saucepan, heat canola oil and add apples. Sauté over medium heat for about 10 minutes or until apples are lightly caramelized. Add water and lemon juice to pan, cook and stir briefly to deglaze pan.
2. Carefully transfer apples to bowl of food processor and pulse just a few times to chunky consistency. Stir in vanilla, cinnamon and cranberries. Serve warm.
Yield
8 servings - 2 2/3 cups (650 mL)
serving size
1/3 cup (75 mL)
nutritional analysis
Per Serving
Calories
40
Total Fat
1 g
Cholesterol
0 mg
Carbohydrates
9 g
Fiber
2 g
Protein
0 g
Sodium
0 mg