Whole Wheat Fusilli with Sautéed Vegetables
Weekdays are hard enough, but dinner can be easier with this whole wheat fusilli, especially if you chop the vegetables the day before. Canola oil helps keep saturated fat to a minimum in this dish.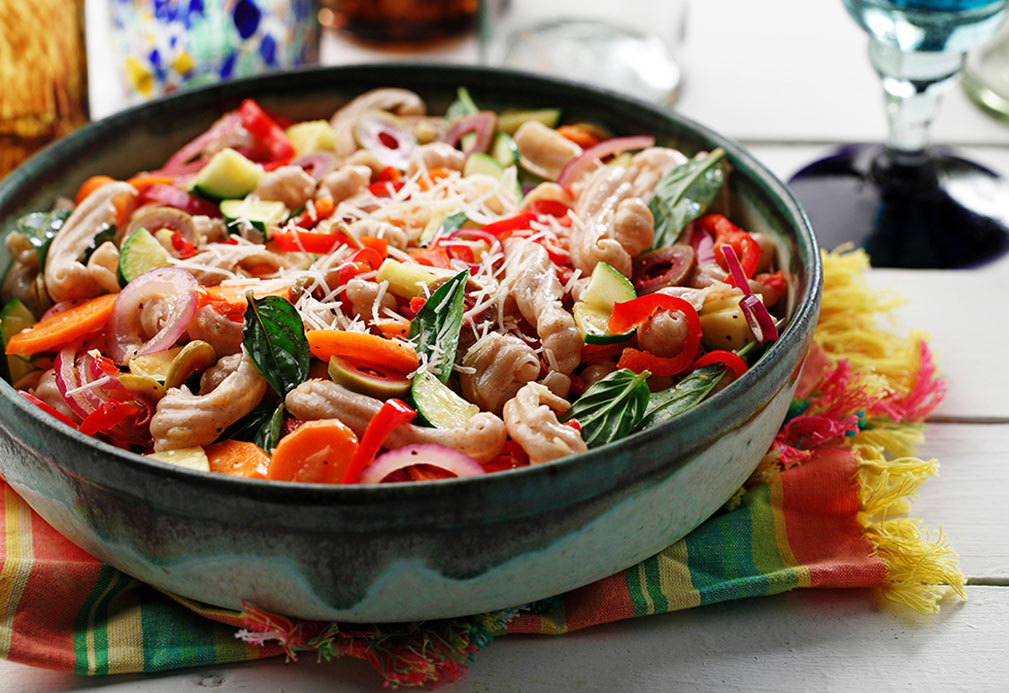 Ingredients
1/2 lb whole-wheat fusilli or pasta of your choice (about 3 cups) 250 g
2 Tbsp canola oil 30 mL
2 garlic cloves, chopped
1/2 cup sliced red onion 125 mL
1 cup sliced carrots 250 mL
1 cup chopped red pepper 250 mL
1 cup chopped zucchini 250 mL
2 Tbsp sliced green olives 30 mL
1/2 cup basil leaves 125 mL
1/2 tsp salt 2 mL
1/2 tsp ground black pepper 2 mL
3 Tbsp Parmesan cheese 45 mL
Instructions
1. Cook fusilli according to package instructions.
2. Meanwhile, in large skillet or wok, heat canola oil. Sauté garlic and onion for 1 to 2 minutes until soft but without letting them change color. Add carrots and pepper and cook for 3 to 4 minutes. Add zucchini and cook for 1 minute. Add olives and pasta. Mix until combined.
3. Season with basil, salt and pepper. Garnish with Parmesan cheese before serving.
Yield
4 servings
serving size
3/4 cup (175 mL)
nutritional analysis
Per Serving
Calories
340
Total Fat
11 g
Saturated Fat
1.5 g
Cholesterol
5 mg
Carbohydrates
51 g
Fiber
7 g
Sugars
6 g
Protein
11 g
Sodium
460 mg
Potassium
476 mg