Greens with Pork
Forget the takeout! This meal is just as delicious.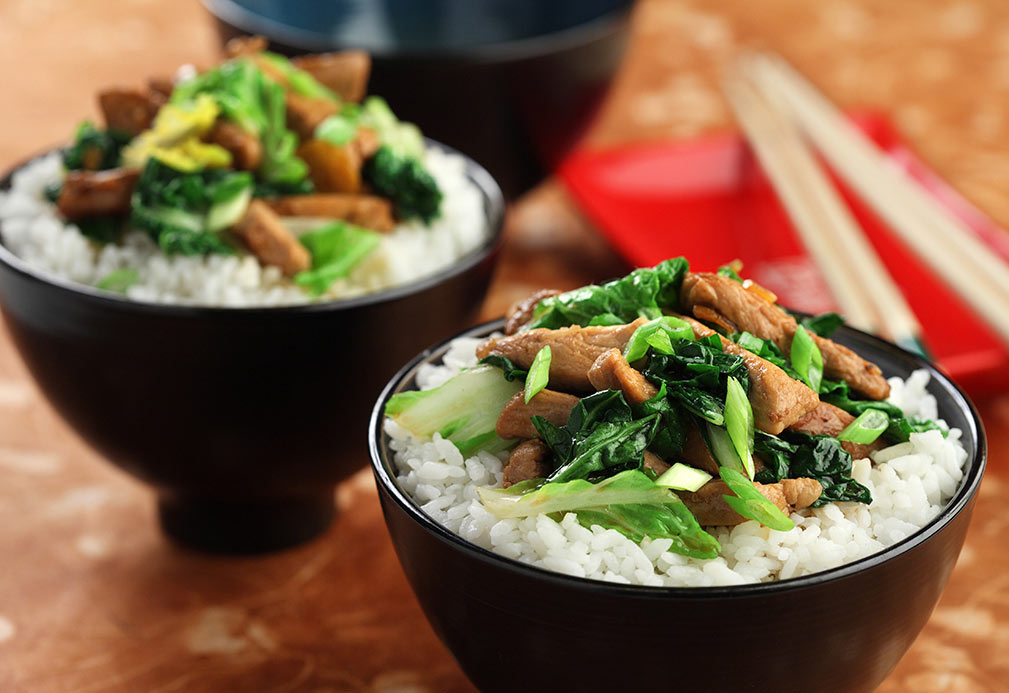 Ingredients
3 Tbsp canola oil 45 mL
12 oz pork tenderloin, cut into 1/4 inch strips 350 g
1 Tbsp thinly sliced fresh ginger 15 mL
2 cloves garlic, minced
6 green onions, cut diagonally
14 oz mixed Chinese greens, cut into bite size pieces 400 g
2 Tbsp oyster sauce 30 mL
1 Tbsp light soy sauce 15 mL
1/2 tsp granulated sugar 2 mL
2 Tbsp lime juice 30 mL
1/4 tsp black pepper 1 mL
1 Tbsp corn starch (optional) 15 mL
2 Tbsp water (optional) 30 mL
cooked short grain rice
Instructions
1. In large non-stick skillet, heat canola oil over medium-high heat. Sauté pork strips until just cooked through, about 6-8 minutes. Remove from pan.
2. Add ginger and garlic and cook 30 seconds.
3. Add green onions and greens. Stir and continue to cook about 5 minutes, until vegetables are just cooked. Add oyster sauce, soy sauce, sugar, lime juice and pepper along with pork and heat through, about 2 minutes. Thicken with mixture of corn starch and water if desired.
4. Serve with rice.
Yield
4 servings
serving size
generous 1 cup (250 mL)
nutritional analysis
Per Serving
Calories
340
Total Fat
13 g
Saturated Fat
1.5 g
Cholesterol
55 mg
Carbohydrates
35 g
Fiber
2 g
Protein
22 g
Sodium
400 mg