Shrimp Soup
This earthy shrimp soup is perfect to warm you up on a cold day and canola oil's light taste won't interfere with the soup's layered flavors. Add red pepper flakes if you like more heat!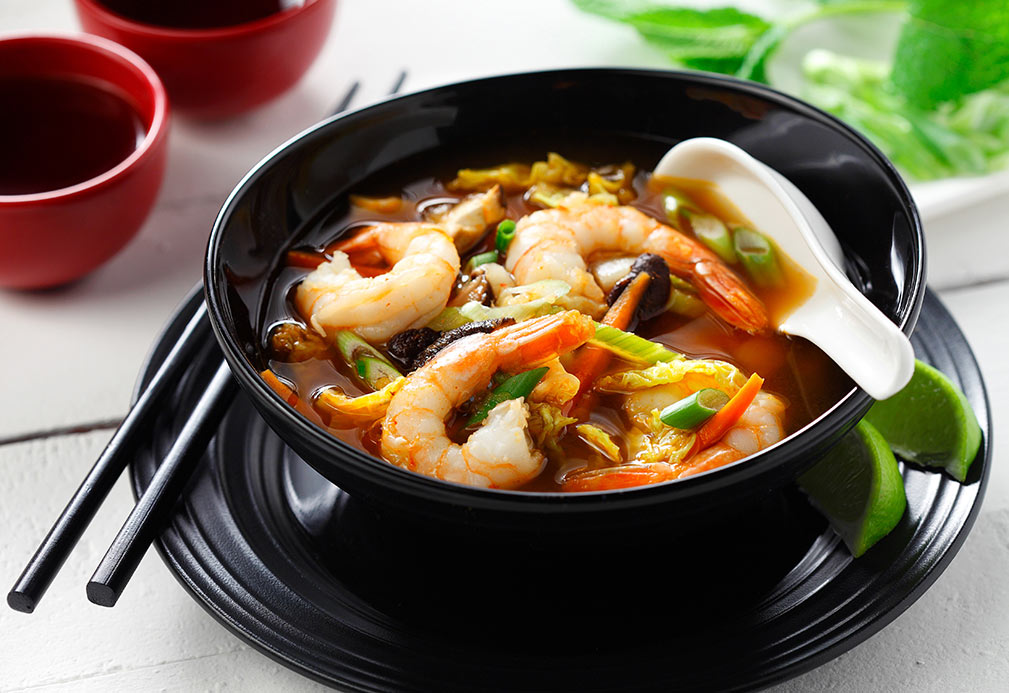 Ingredients
1 garlic clove, minced
1 small onion, chopped
2 carrots, diced
2 celery stalks, chopped
1 Tbsp canola oil 15 mL
1-2 Tbsp red curry paste 15-30 mL
1 Tbsp low sodium soy sauce 15 mL
8 cups low sodium chicken broth 2 L
1 cup Shitake mushrooms 250 mL
2 cups chopped Chinese cabbage 500 mL
2 Tbsp finely grated fresh ginger 30 mL
12 medium raw shrimp, peeled and deveined
2 green onions, sliced (for garnish) 
Instructions
1. In saucepan, sauté garlic, onion, carrot and celery in canola oil over medium-high heat for about 3 minutes.
2. Stir in curry paste, soy sauce, chicken broth and bring to boil over high heat.
3. Add Shitake mushrooms, Chinese cabbage and ginger. Cook for 3 minutes and add shrimp. Cover and cook until shrimp turn pink, about 2-3 minutes.
4. Serve in soup bowls and garnish with green onion.
Yield
4 servings
serving size
1 1/2 cup (375 mL)
nutritional analysis
Per Serving
Calories
170
Total Fat
4.5 g
Saturated Fat
0.5 g
Cholesterol
25 mg
Carbohydrates
31 g
Fiber
6 g
Protein
7 g
Sodium
290 mg