Spicy Ginger Shrimp
Stir-frying is a quick and healthy cooking method. Canola oil's high smoke point works well and its neutral taste allows the flavor of the other foods to shine through.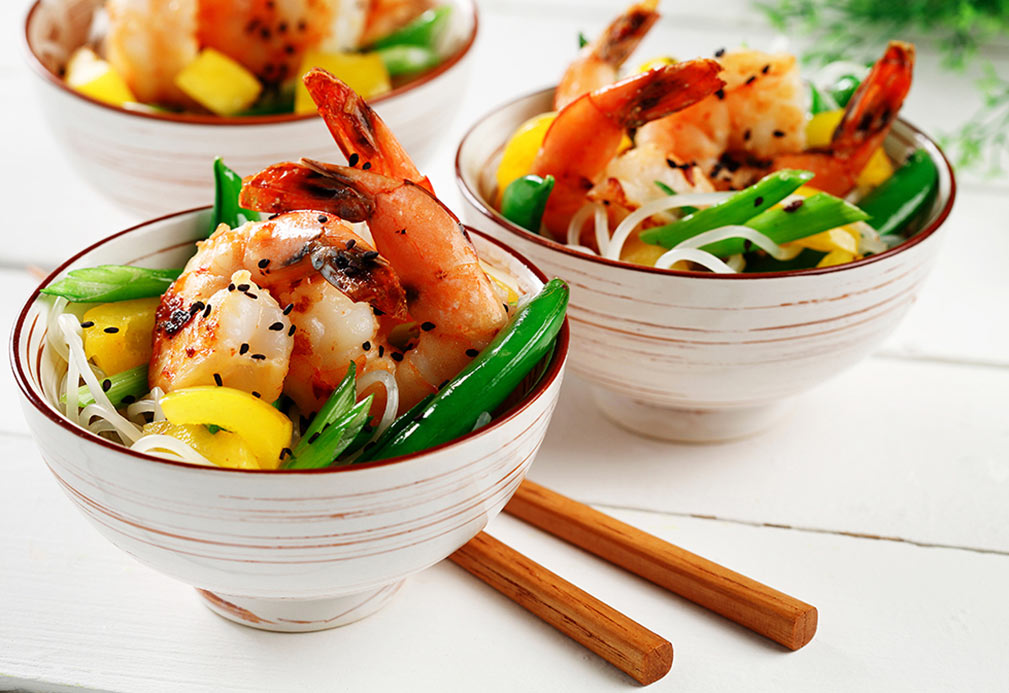 Ingredients
Marinade
2 Tbsp canola oil 30 mL
3 cloves garlic, minced 
4 tsp fresh ginger, peeled and minced 20 mL
1/2 tsp red pepper flakes 2 mL
Stir Fry
1 lb large raw shrimp, deveined and peeled 500g
1 Tbsp canola oil 15 mL
1 lb sugar snap peas 500g
1 cup yellow peppers, diced 250 mL
5 green onions, sliced diagonally
2 tsp black sesame seeds 10 mL
1/4 tsp ground pepper 1 mL
1/2 tsp salt 2 mL
fresh chopped cilantro
Instructions
1. In a non-metal bowl, combine canola oil, garlic, ginger and red pepper flakes. Add shrimp and stir. Refrigerate for about an hour.
2. Heat wok or frying pan over high heat. Add marinade and shrimp and cook 2-3 minutes until shrimp change to a pinkish color. Remove to a plate.
3. Add canola oil to pan and add the vegetables. Stirfry about 3 minutes until tender crisp. Return shrimp and juices to pan and stirfry another minute.
4. Season with salt and pepper and garnish with freshly chopped cilantro and black sesame seeds. Serve over steamed noodles or with rice.
Recipe Variation: Replace shrimp with 3 chicken breasts and double the recipe of marinade. Chicken produces a less spicy dish.
Yield
6-8 servings.
serving size
nutritional analysis
Per Serving
Calories
304
Total Fat
12 g
Saturated Fat
1 g
Cholesterol
244 mg
Carbohydrates
19 g
Fiber
5 g
Protein
32 g
Sodium
707 mg