Beef Ragout with Grilled Bread
This dish can be made in a slow-cooker or the stovetop. Canola oil is used to make both the ragout and grilled bread because of its neutral flavor and heat tolerance. The ragout is served with bread to soak up the hearty and flavorful broth, but it can be served with pasta or polenta instead.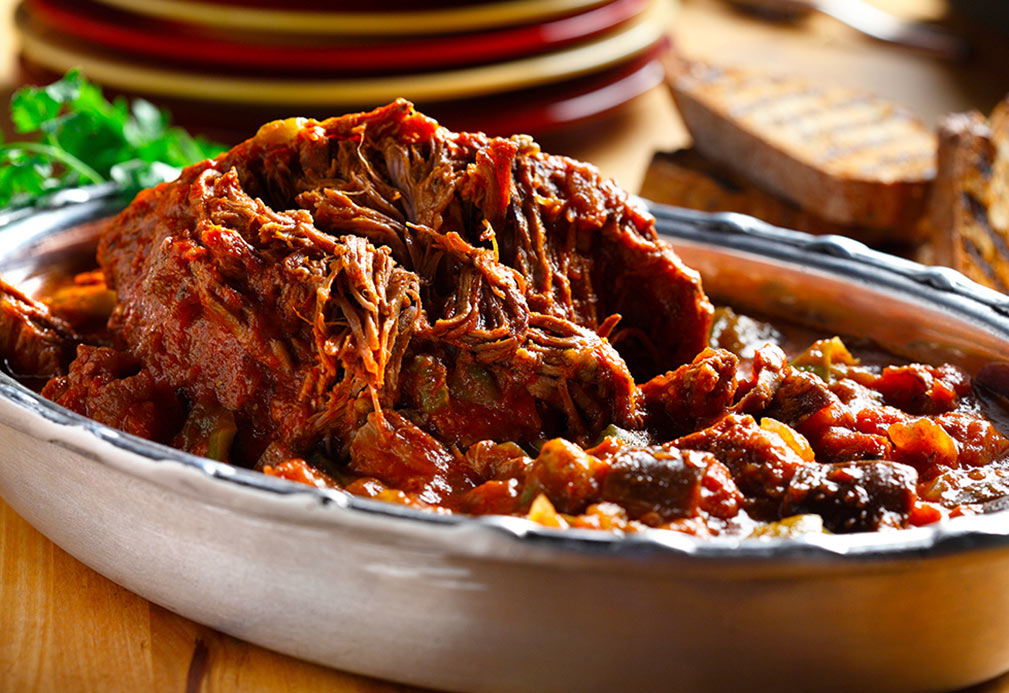 Ingredients
Ragout:
1 lb lean beef roast such as round tip roast 500 g
1 Tbsp canola oil 15 mL
1 medium yellow onion, chopped
4 cloves garlic, minced
1 Tbsp dried Italian seasoning 15 mL
1 medium eggplant, not peeled, cut into 1-inch (2.5 cm) cubes
2 green bell peppers, chopped
2 cans (15 oz/426 mL each) low-sodium crushed tomatoes
1 cup red wine 250 mL
1/4 cup fresh parsley, chopped 60 mL
Grilled Bread:
12 slices whole grain Italian bread, sliced on bias, about 1-inch thick each
1 Tbsp canola oil 15 mL
Instructions
1. In large, non-stick skillet, brown each side of beef roast in canola oil. Place roast in slow-cooker or large pot.
2. Add onion, garlic, Italian seasoning, eggplant, peppers, tomatoes and red wine. Cook on low heat for 8-9 hours (or high heat for 4-5) until beef is tender and has internal temperature of 145 °F (65 °C).*
3. When beef is cooked, shred with fork.
4. To prepare grilled bread: Brush bread with canola oil and grill for 1-2 minutes on each side, until toasted.
5. To serve top ragout with parsley. Serve with grilled bread.
*Note: If preparing on stovetop, use a large pot (8-quart) and bring ragout ingredients, except parsley, to boil and simmer covered for at least 30 minutes.
Yield
6 servings
serving size
1.5 cups (375 mL) ragout
nutritional analysis
Per Serving
Calories
340
Total Fat
10 g
Saturated Fat
2.5 g
Cholesterol
60 mg
Carbohydrates
29 g
Fiber
7 g
Sugars
9 g
Protein
25 g
Sodium
210 mg
Potassium
640 mg