Pork Chops With Dijon Scallion Rice
Quick, easy and delicious!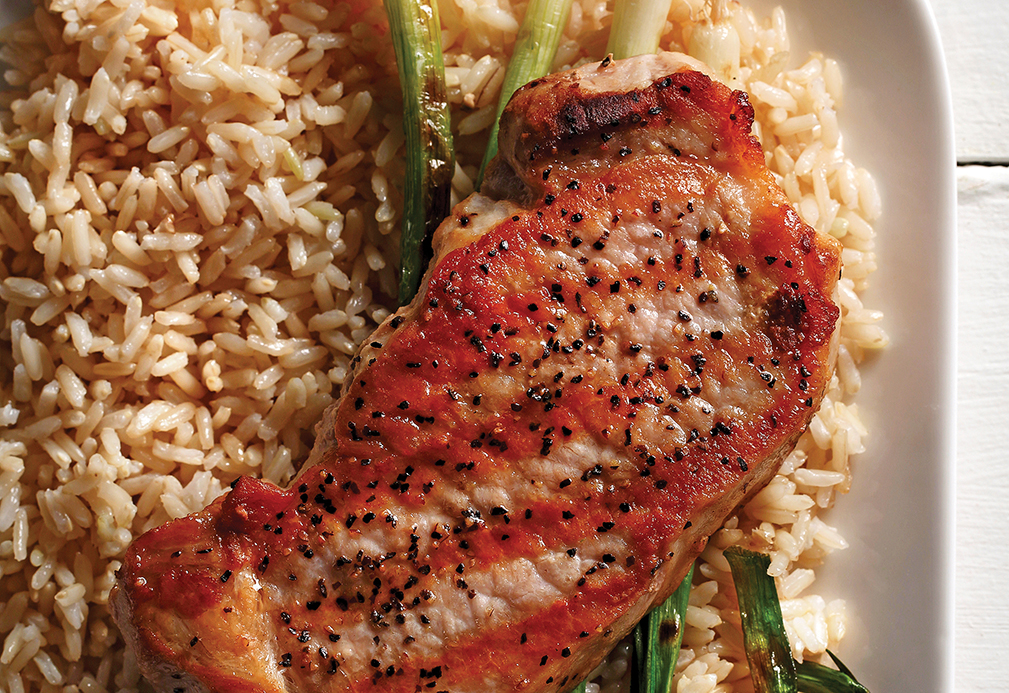 Ingredients
1/4 cup fat free sour cream 60 mL
1 Tbsp Dijon mustard 15 mL
1 Tbsp canola oil 15 mL
1 Tbsp skim milk 15 mL
1/2 tsp grated lemon rind 2 mL
1 Tbsp lemon juice 15 mL
1/2 tsp dried rosemary leaves, crushed 2 mL
1/4 tsp black pepper 1 mL
1/4 tsp salt 1 mL
canola oil cooking spray
8 whole green onions, trimmed 8
4 (4oz/125g) boneless center cut pork chops, trimmed of fat 4
1/4 tsp salt 1 mL
1/4 tsp black pepper 1 mL
1 cup water 250 mL
1/2 cup fast cooking brown rice 125 mL
Instructions
1. Preheat grill or broiler.
2. In small bowl, combine sour cream, mustard, oil, milk, lemon rind, lemon juice, rosemary, pepper and salt. Stir until well blended.
3. Lightly coat green onions with cooking spray and set aside. Sprinkle remaining salt and pepper over both sides of pork chops.
4. Coat cold grill or broiler rack with cooking spray, heat grill or broiler pan and cook pork chops 4 minutes. Turn pork chops over and place green onion on rack alongside the pork, cook 4 minutes longer or until pork is slightly pink in center. Turn onions midway.
5. Meanwhile, cook rice according to directions on package, omitting any salt or fat. Remove pork and onions from grill. Coarsely chop onions and toss with rice, spoon sauce over rice mixture and top with pork.
Note: *Before preparing rice, check the package directions along with the amounts. You will want 2 cups (500 mL) cooked rice. Rice companies vary in amounts to use and cooking times.
Yield
4 servings
serving size
1 serving
nutritional analysis
Per Serving
Calories
260
Total Fat
10 g
Saturated Fat
2.5 g
Cholesterol
75 mg
Carbohydrates
14 g
Fiber
1 g
Protein
28 g
Sodium
480 mg