Candy Bar Brownies
You can create any flavor of brownie you like with your favorite candy bar. Make a pan of these after Halloween when you have an array of candy to use. Canola oil helps keep them moist and chewy.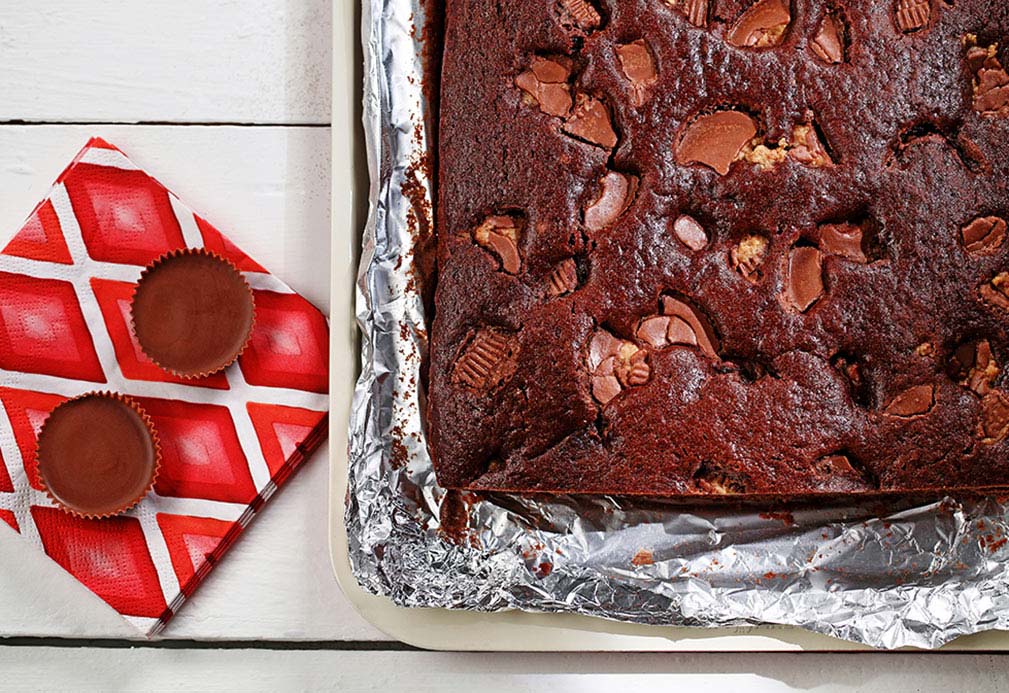 Ingredients
canola oil cooking spray
1 1/4 cups granulated sugar 310 mL
3/4 cup canola oil 175 mL
1/2 cup cocoa powder 125 mL
2 eggs
1 tsp vanilla extract 5 mL
1 1/2 cups all-purpose flour 375 mL
1 tsp baking powder 5 mL
1/4 tsp baking soda 1 mL
1 cup 2% milk 250 mL
2 cups (about 6 oz/170 g) broken candy bar pieces (like peanut butter cups or chocolate bars) 500 mL
Instructions
1. Preheat oven to 350 °F (180 °C). Line inside of 9 x 13-inch (22 x 23-cm) baking pan with aluminum foil. Spray with canola oil cooking spray.
2. In large saucepan over medium heat, blend sugar, canola oil and cocoa until it starts to slightly bubble around edge. Take off of heat. Quickly whisk in eggs and vanilla until combined. Set aside.
3. In medium bowl, whisk flour, baking powder and baking soda. Add dry ingredients in three parts, alternately with milk, to chocolate mixture, starting and ending with dry ingredients. Pour into prepared baking pan, smoothing to sides. Evenly add candy bar pieces on top.
4. Bake for about 25 to 30 minutes or until toothpick inserted into brownie comes out with few moist crumbs. Cool in pan on wire rack. Cut into 24 pieces.
Yield
24 brownies
serving size
1 brownie
nutritional analysis
Per Serving
Calories
180
Total Fat
10 g
Saturated Fat
2 g
Cholesterol
15 mg
Carbohydrates
22 g
Fiber
1 g
Sugars
15 g
Protein
2 g
Sodium
40 mg
Potassium
86 mg