Espresso Chocolate Turtle Cake
Baking with canola oil can reduce your saturated fat intake.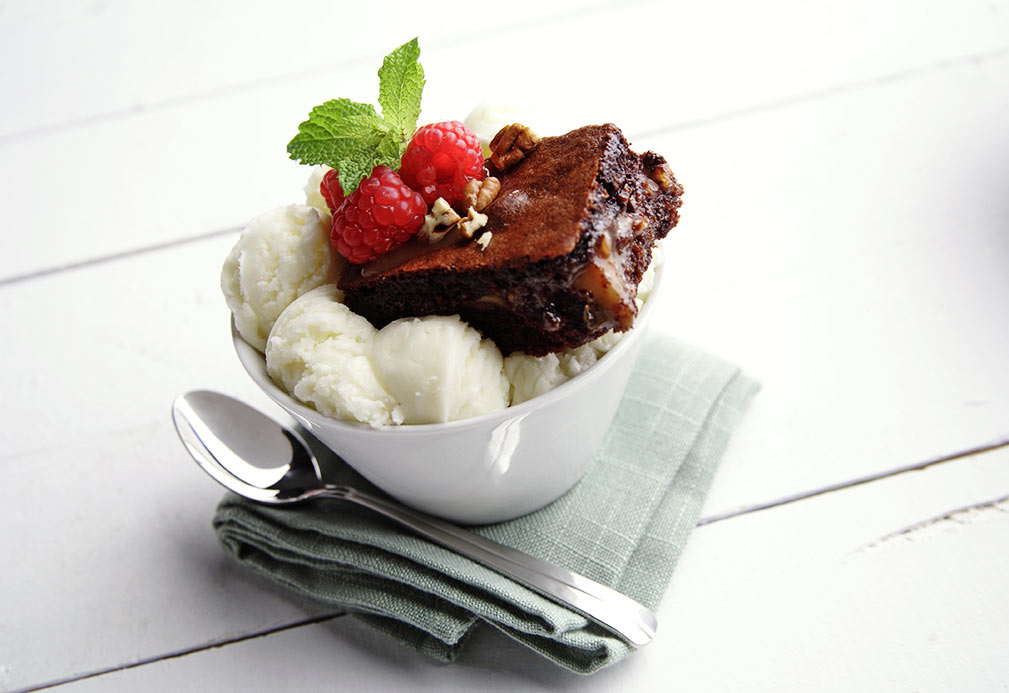 Ingredients
1 (18oz/515g) pkg dark chocolate cake mix
1 1/3 cups water 325 mL
1/2 cup canola oil 125 mL
3 eggs
1 Tbsp instant espresso coffee 15 mL
1 tsp cinnamon 5 mL
1 (14oz/340g) bag caramels, papers removed
1/2 cup evaporated milk 125 mL
1 cup chopped pecans 250 mL
1 cup semi-sweet chocolate chips 250 mL
caramel sauce
chopped nuts
fresh fruit
Instructions
1. Preheat oven to 350 °F (180 °C). Spray 9 x 13 inch (23 x 33 cm) pan with canola oil.
2. In large mixing bowl, combine cake mix, water, canola oil, eggs, espresso coffee powder and cinnamon. Beat at low speed for 1 minute, scraping bowl continuously. Do not over mix. Pour half of the batter into prepared pan. Bake for 25 minutes.
3. Heat caramels and evaporated milk in medium saucepan over medium heat, stirring frequently, until caramels are melted and mixture is smooth. Stir in chopped pecans. Pour caramel mixture over warm cake in pan. Sprinkle with chocolate chips. Then spread remaining batter over all. Bake 30 minutes longer. Remove from oven and cool for a least 30 minutes. Serve turtle cake with ice cream, drizzle with caramel sauce, additional chopped nuts. Garnish with fresh fruit.
Yield
24 servings
serving size
1 servings
nutritional analysis
Per Serving
Calories
280
Total Fat
16 g
Saturated Fat
3 g
Cholesterol
30 mg
Carbohydrates
35 g
Fiber
1 g
Protein
4 g
Sodium
240 mg