Candy Cane Whoopie Pies
Typically an Amish dessert, and not really a pie. Mostly like cupcake tops that are sandwiched with a filling. These are extremely moist. Kids will love these and so will the parents at a holiday event.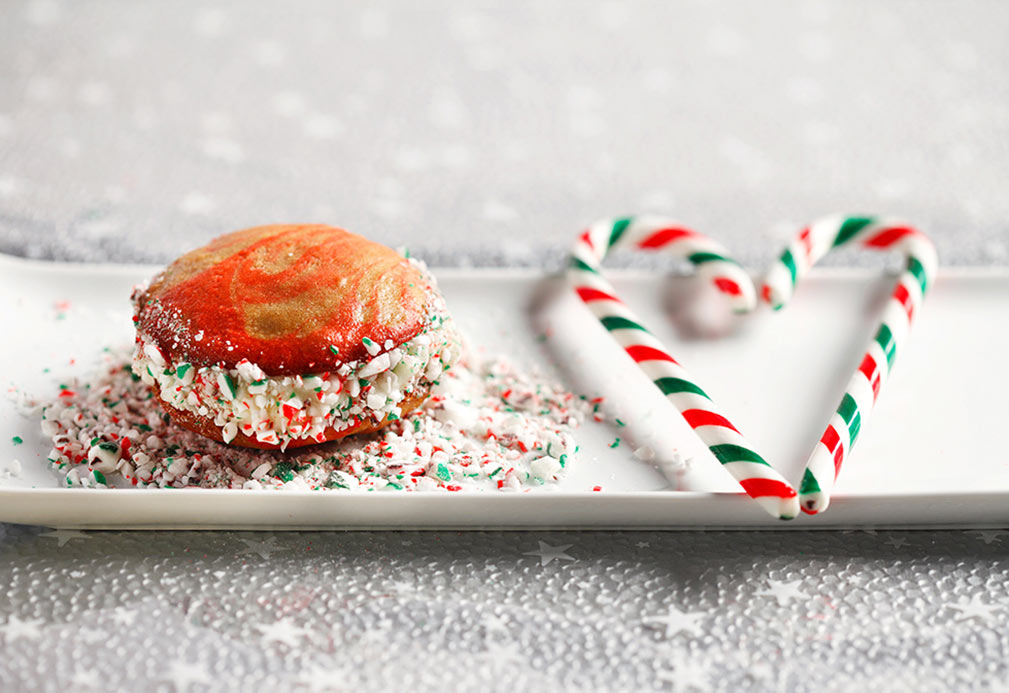 Ingredients
Whoopie Pies
Canola oil cooking spray
1 3/4 cups all-purpose flour 425mL
3/4 tsp baking soda 4 mL
3/4 tsp baking powder 4 mL
1/4 tsp salt 1 mL
1 cup brown sugar, packed 250 mL
3/4 cup whole milk 175 mL
6 Tbsp canola oil 90 mL
1 large egg, beaten
1 tsp freshly squeezed lemon juice 5 mL
1 tsp pure vanilla extract 5 mL
1/2 tsp red food coloring 2 mL
1/4 cup candy canes, crushed 60 mL 
Filling:
8 oz cream cheese, softened 250g
2 Tbsp canola oil 30 mL
2 cups icing sugar 500 mL 
Instructions
Whoopie Pies
1. Prepared whoopie pie pans by spraying with canola oil, set aside.
2. Preheat oven to 350°F (180°C).
3. In a medium bowl, stir flour, soda, baking powder and salt. Set aside.
4. In a large bowl, blend brown sugar, milk, canola oil, egg, lemon juice and vanilla. Add flour mixture and blend until fully incorporated.
5. Remove about 1/4 cup (60 mL) of the mixture and add red coloring, then swirl the red mixture back into the mixture so you can see all of the swirls.
6. Place about 1 1/2 Tbsp (20 mL) of the mixture into each whoopie cavity. Place in preheated oven, bake until firm to the touch, about 12 to 15 minutes. Cool completely. Meanwhile make filling.
Filling
1. In a medium bowl, with a hand-held mixer, cream cheese and oil together. Add icing sugar and whip until fluffy, about 3 minutes.
2. Take a few tablespoons of the filling and sandwich two of the whoopie pies together. Press them together so filling comes out. Press crushed candy canes into the sides. 
Yield
about 18 completed Whoopie Pies
serving size
1 Whoopie pie
nutritional analysis
Per Serving
Calories
260
Total Fat
11 g
Saturated Fat
3 g
Cholesterol
25 mg
Carbohydrates
40 g
Fiber
0 g
Sugars
30 g
Protein
3 g
Sodium
150 mg