Caramelized Corn and Red Pepper Salad with Chives
Take advantage of your hot grill pan and cook multiple vegetables at the same time. Caramelizing corn and red peppers bring out their natural sweetness, which are complemented by savory chives. The dressing is a light and tangy blend of red wine vinegar, canola oil and smoky cumin –- ingredients that enhance the fresh flavors of the vegetables without overpowering them.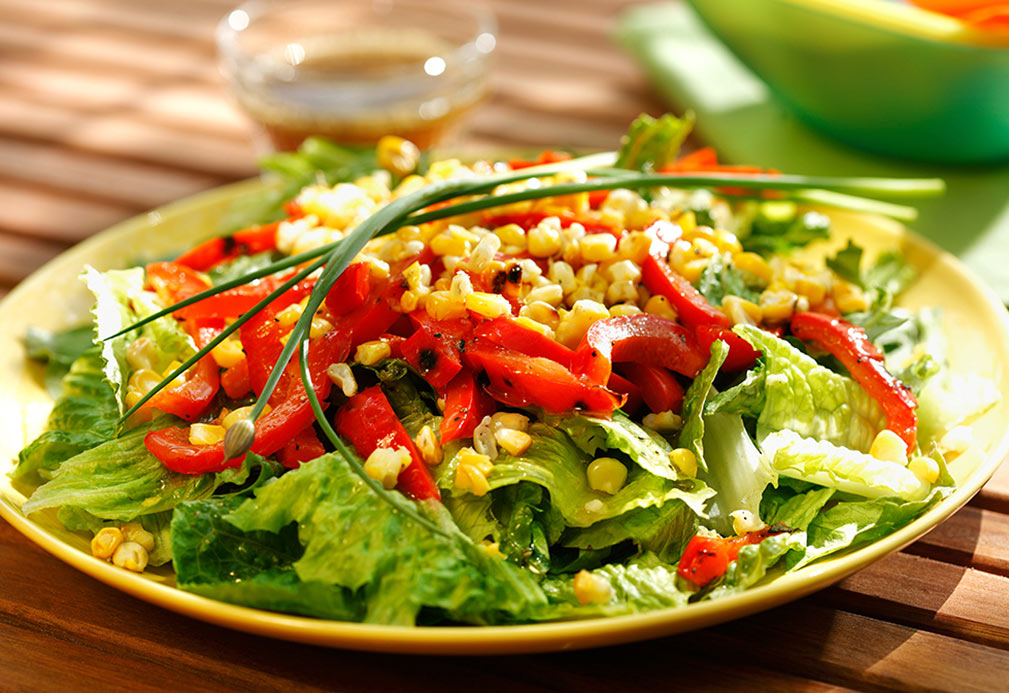 Ingredients
canola oil cooking spray
2 ears cob corn, shucked
1 red bell pepper, halved lengthwise and seeded
1/4 cup reduced-sodium chicken or vegetable broth 60 mL
1 Tbsp canola oil 15 mL
1 Tbsp red wine vinegar 15 mL
1 tsp ground cumin 5 mL
1/4 tsp freshly ground black pepper 1 mL
2 Tbsp chopped fresh chives 30 mL
4 cups chopped romaine lettuce 1 L
Instructions
1. Coat stove-top grill pan with cooking spray and preheat to medium-high heat.
2. Add corn and bell pepper to hot pan and grill 5-7 minutes, until corn and peppers are browned, turning corn frequently and flipping peppers to prevent burning. Remove from heat and when cool enough to handle, cut corn from cob and cut pepper into 1-inch (2.5 cm) pieces. Transfer corn and pepper to medium bowl. Set aside.
3. In small bowl, whisk together broth, canola oil, vinegar, cumin and pepper. Add mixture to corn mixture and toss to coat. Fold in chives.
4. Arrange romaine lettuce on serving platter. Spoon corn mixture over romaine and serve.
Tips: To transform this side dish into a complete meal, use the corn mixture as a topping for grilled or roasted chicken breast, turkey tenderloin, fish or lean steak. To prevent messy clean-up, cut corn from cob directly into a bowl.
Yield
4 servings
serving size
1/2 cup (125 mL) corn mixture, 1 cup (250 mL) lettuce
nutritional analysis
Per Serving
Calories
130
Total Fat
6 g
Saturated Fat
0.5 g
Cholesterol
0 mg
Carbohydrates
18 g
Fiber
3 g
Protein
4 g
Sodium
20 mg