Caramelized Onion and Garlic Soup
This delicious soup is the essence of comfort food: caramelized onions and garlic topped with toasted bread and melted cheese. Roasting the garlic first as the onions caramelize gives it a head start. Canola oil's neutral taste won't interfere with these heady aromatics.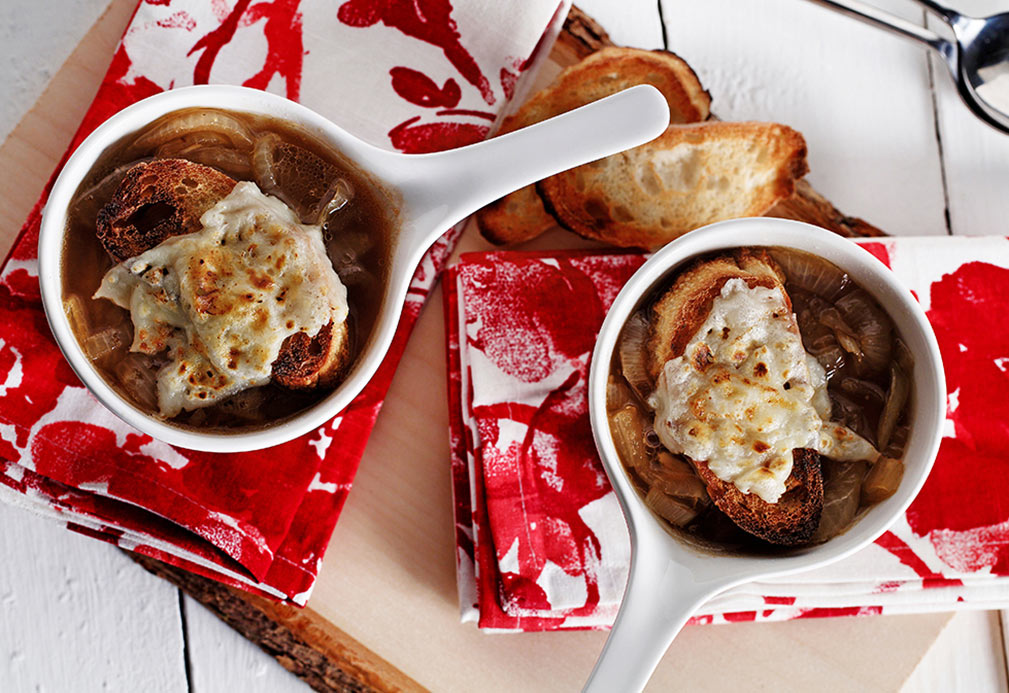 Ingredients
1 head garlic
3 Tbsp canola oil, divided 45 mL
2 large sweet onions, such as Vidalia
4 cups beef stock 1 L
4 baguette slices
1 cup grated Gruyere, aged cheddar, Gouda or a combination 250 mL
Instructions
1. Preheat oven to 350 °F (180 °C). Cut thin slice off top of garlic head, place in small ramekin or baking dish and drizzle with 1 Tbsp (15 mL) canola oil. Roast in oven for 40 to 45 minutes, until soft and turning golden. Remove from oven and set aside to cool. 
2. Meanwhile, put medium pot over medium-high heat and add remaining canola oil. When foaming subsides, add onions and cook, stirring often, for 20 minutes, until golden and caramelized. 
3. When garlic is cool enough to handle, squeeze it out of its skin into pot of onions and continue to cook for another 3-4 minutes. 
4. Add 1/2 cup (125 mL) of stock and cook, stirring often, until all excess moisture has cooked off. Add rest of stock and bring to a simmer; cook for 15-20 minutes, then remove from heat. 
5. In four oven-proof bowls, divide soup and place bowls on baking sheet. Toast bread and put one slice on top of each bowl of soup; top with shredded cheese. Broil in oven for 2-3 minutes, or until cheese is melted and golden. Serve immediately.
Yield
4 Servings
serving size
1 1/2 cup (375 mL) with slice of baguette with 1/4 cup (60 mL) cheese
nutritional analysis
Per Serving
Calories
400
Total Fat
21 g
Saturated Fat
6 g
Cholesterol
30 mg
Carbohydrates
34 g
Fiber
2 g
Protein
18 g
Sodium
340 mg