Curried Corn and Pepper Chowder
When fresh corn is available, use about 3 cobs in place of frozen corn; cook and then cut the kernels from the cobs. Roasted corn is especially tasty. For a spicier soup, stir in a pinch of cayenne pepper or red pepper flakes along with the black pepper. The neutral taste of canola oil allows the vibrant flavors in this main course soup to shine.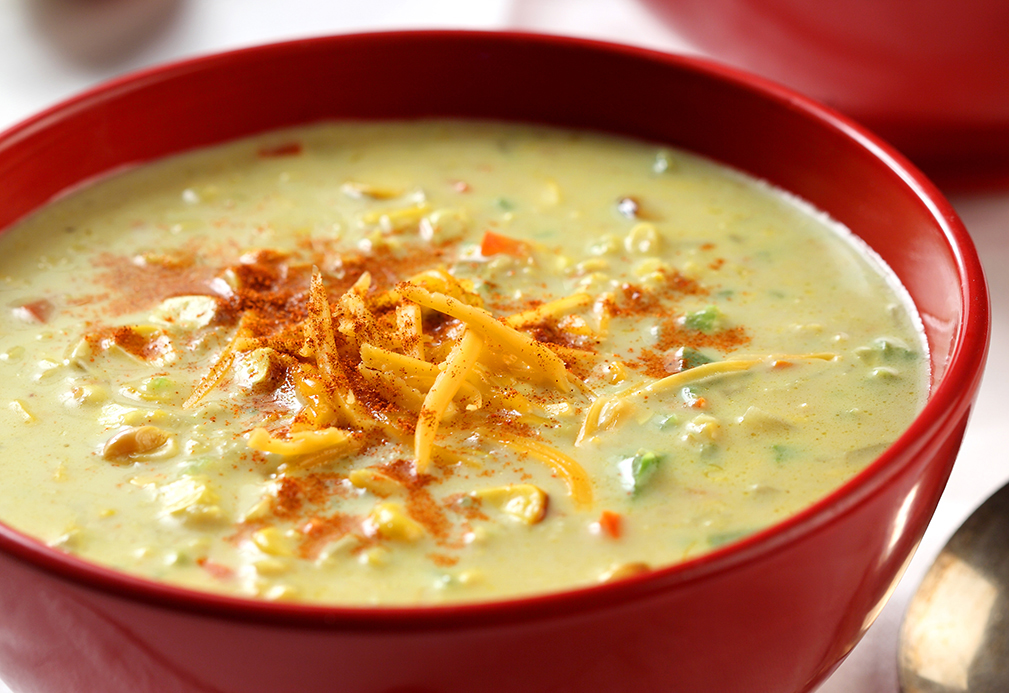 Ingredients
2 Tbsp canola oil 30 mL
1/2 green bell pepper, finely chopped
1/2 red bell pepper, finely chopped
1/2 cup finely chopped red onion 125 mL
1 Tbsp curry powder 15 mL
1-16 oz bag frozen corn 453g
2 cups whole milk 500 mL
1 cup reduced-sodium vegetable stock (made using stock concentrate, power, or cubes) 250 mL
1/4 tsp salt, or to taste 1 mL
1/4 tsp pepper, or to taste 1 mL
1 cup finely shredded cheddar cheese 250 mL
paprika for garnish
Instructions
1. Heat the canola oil in a Dutch oven over medium-high heat. Add the bell peppers and onion; cook, stirring occasionally, for 5 minutes or until tender. Add the curry powder; stir for about 30 seconds. Stir in the corn, milk and vegetable stock. When the liquid begins to boil, reduce the heat to medium; cover and simmer for 5 minutes or until the vegetables are tender.
2. Blend with an immersion blender until about half of the vegetables are pureed. (Or allow the soup to partially cool. Transfer 2 cups (500 mL) of soup to a standing blender or food processor. Process until the mixture is nearly smooth, and then stir back into the Dutch oven.)
3. Season with salt and pepper. Stir gently over medium heat until heated through. Garnish each serving with 1/4 cup (60 mL) cheese and sprinkling of paprika.
Variations:
- Canned reduced- sodium chicken broth can be substituted for the vegetable stock.
- Skim or 2% milk can be substituted for the whole milk, resulting in a less rich soup.
- To make the meal more filling for non-vegetarians, top servings with shredded rotisserie chicken (skin and bone removed).
Yield
4 servings (5 cups - 1.19L)
serving size
nutritional analysis
Per Serving
Calories
380
Total Fat
22 g
Saturated Fat
9 g
Cholesterol
40 mg
Carbohydrates
36 g
Fiber
5 g
Protein
15 g
Sodium
450 mg