Chicken Chilaquiles
Chilaquiles are not only fun to pronounce, they are fun to eat, too! Toasted tortillas serve as the base of the dish and the rest of the ingredients are poured on top. Choose your garnishes and eat up!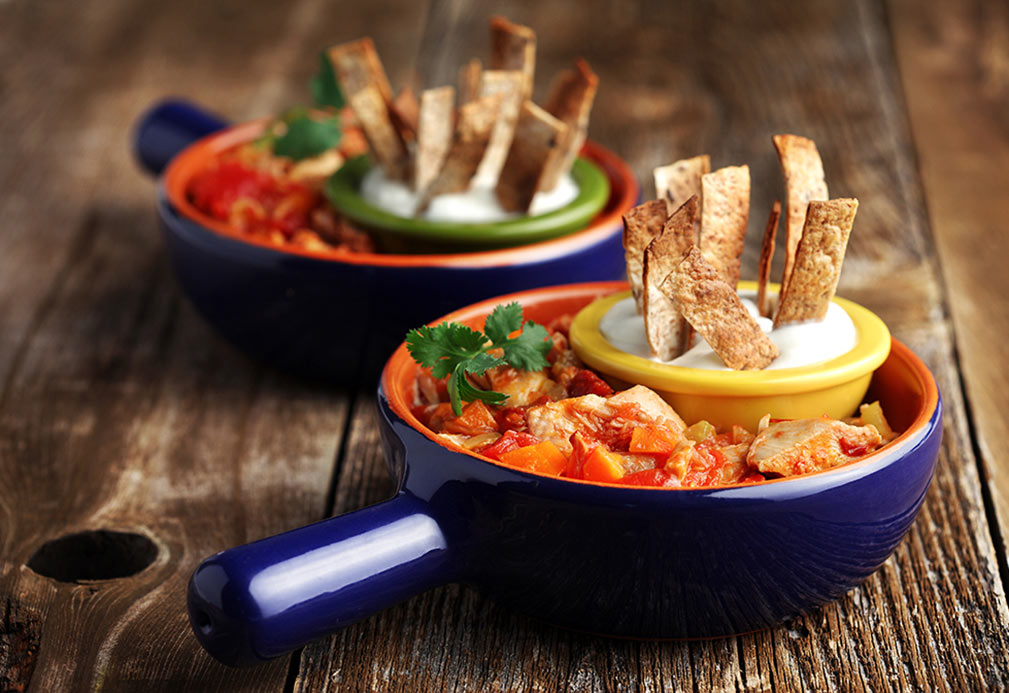 Ingredients
2 Tbsp canola oil 30 mL
2 cloves garlic, minced
1 medium onion, diced
1 medium carrot, diced
2 ribs celery, diced
1 can (28 oz/796 mL) tomatoes
2-3 canned chipotle chilies, chopped
1 small purchased whole roasted chicken, meat removed from carcass and chopped or shredded into bite size pieces
2 Tbsp freshly chopped cilantro 30 mL
2 large tortilla wraps, each cut into 4 pieces and then cut into ½-inch strips
1/4 cup light sour cream 60 mL
1/4 cup light feta cheese 60 mL
cilantro leaves for garnish
Instructions
1. In large non-stick skillet, heat canola oil over medium-high heat. Sauté garlic, onion, carrot and celery until vegetables are just tender, about 5 minutes. Stir tomatoes into vegetables. Cut tomatoes into smaller pieces using kitchen shears. Add chipotle peppers. Stir to mix ingredients.
2. Bring mixture to boil. Reduce heat and simmer, uncovered, 6-8 minutes.
3. Add cooked chicken and heat through, about 1-2 minutes. Stir in cilantro.
4. Meanwhile, toast tortilla strips at 425 ºF (220 ºC) for 6-7 minutes, stirring once during baking time. Divide chips into 6 serving bowls and ladle chicken mixture over top of chips.
5. Garnish with 1 Tbsp (15 mL) sour cream, 1 Tbsp (15 mL) light feta cheese and additional cilantro leaves.
Yield
6 servings
serving size
generous 1 cup (250 mL)
nutritional analysis
Per Serving
Calories
340
Total Fat
14 g
Saturated Fat
3.5 g
Cholesterol
75 mg
Carbohydrates
23 g
Fiber
3 g
Protein
28 g
Sodium
720 mg