Chicken and Artichokes with Pasta
Three shades of green combine in this pasta dish. It's so good and so good for you that it will quickly become a staple meal!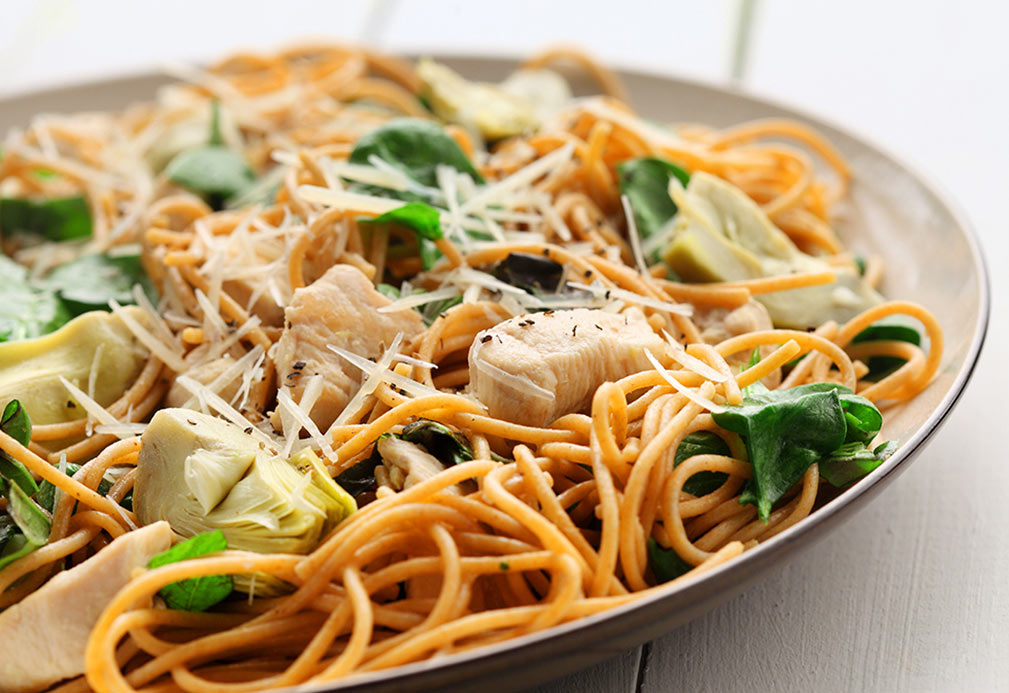 Ingredients
 1/4 of 16 oz (455 g) package dry whole-grain spaghetti noodles, broken in half
 2 Tbsp canola oil, divided 30 mL
 3 to 4 lb boneless, skinless chicken breasts, rinsed, patted dry, and cut into bite-size pieces 350 g
 1/2 of can (13.75-oz/390 g) quartered artichoke hearts, drained
 3 medium cloves garlic, minced
 1 cup (about 1 oz/28 g) packed baby spinach 250 mL
 1/2 cup chopped fresh basil leaves 125 mL
 1/4 tsp salt 1 mL
 1/4 cup (1 oz/28 g) grated Parmesan cheese 60 mL
Instructions
1. Cook pasta according to package directions, omitting any salt or fat.
2. Meanwhile, heat 1 teaspoon canola oil in a large nonstick skillet over medium heat, tilting to coat bottom. Add chicken and cook 4 minutes or until slightly browned, stirring frequently. Add artichokes and cook, stirring constantly, 2 minutes or until chicken is no longer pink in the center and juices run clear. Transfer to a plate and set aside.
3. Add remaining canola oil and garlic to skillet, and cook 15 seconds over medium heat. Remove from heat; add drained pasta, chicken mixture, spinach, basil, and salt. Toss gently, yet thoroughly, to blend. Sprinkle with Parmesan.
Fresh tip: Adding the spinach leaves and basil at the very end allows the leaves to wilt slightly while retaining their vibrant color and flavor.
Yield
4 servings.
serving size
1 1/4 cups (300 mL).
nutritional analysis
Per Serving
Calories
310
Total Fat
12 g
Saturated Fat
2 g
Cholesterol
55 mg
Carbohydrates
24 g
Fiber
4 g
Protein
26 g
Sodium
370 mg