Chicken with Cashew Spinach Sauce
Simple and quick, this vibrant dish packs flavor and color in each addictive bite. Serve it with some steamed basmati rice or even hot noodles tossed with a little coarse sea salt, coarsely ground black peppercorns and a drizzle of canola oil.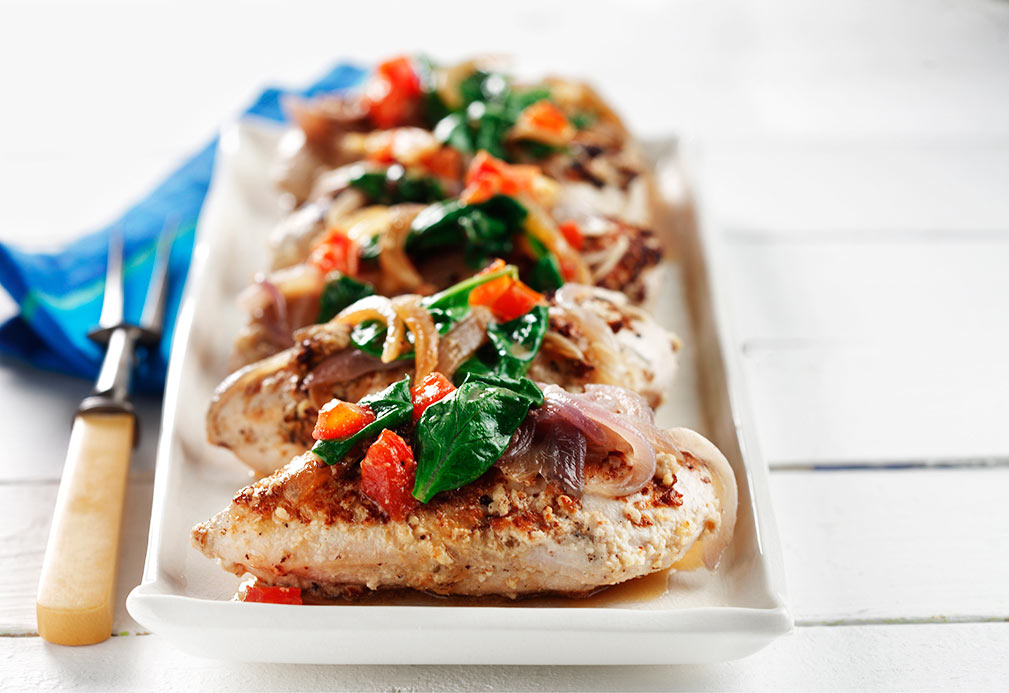 Ingredients
Cashew Marinade
1/2 cup plain low-fat yogurt 125 mL
1/4 cup raw cashew nuts 60 mL
8 medium cloves garlic
3 slices fresh ginger, cut lengthwise about 1 1/2 inches (3.75 cm), 1 inch (2.5 cm) wide and 1/8 inch (0.3 cm) thick
1 Tbsp coriander seeds 15 mL
1 tsp cumin seeds 5 mL
Assembly
6 boneless, skinless chicken breasts - about 4 oz (125 g) each 
1 1/2 Tbsp canola oil, to divide 20 mL
1 small red onion, cut in half lengthwise and thinly sliced
1 cup water 250 mL
8 oz fresh, pre-washed baby spinach leaves 250 g
1/2 tsp cayenne pepper 2 mL
1 large tomato, cored and finely chopped
Instructions
1. In blender, combine marinade ingredients. Purée, scraping inside of blender as needed to make smooth, yet slightly gritty, sauce. Transfer mixture to medium sized bowl.
2. Add chicken breasts to bowl and coat well with marinade. Refrigerate, covered, at least 1 hour or as long as overnight.
3. In large skillet, heat 1/2 Tbsp (7 mL) canola oil over medium-high heat. Add onion and cook, 3-4 minutes stirring, until onion slices are soft and light brown around edges, 3 to 4 minutes. Transfer onion to a plate.
4. Pour remaining 1 Tbsp (15 mL) canola oil into same skillet. Add chicken breasts (most of marinade will still be clinging to pieces) to skillet in single layer. Sear meat until lightly browned, 3-5 minutes. Turn pieces over and sear other side, for another 3-5 minutes, until lightly browned.
5. Remove chicken from skillet onto a plate. Transfer onion slices to pan and pour water into skillet. Scrape bottom to release browned bits of chicken and deglaze pan. Move chicken breasts back to skillet and spoon mixture over them. Reduce heat to medium-low, cover and braise chicken, basting it with sauce occasionally, until meat in thickest parts is no longer pink inside and juices run clear, 12-15 minutes. Transfer chicken and onions to serving platter and cover with foil to keep warm.
6. Raise heat to medium-high and add spinach, one handful at a time, into sauce along with cayenne pepper and salt. Cook, stirring occasionally, just until leaves have wilted, 1 to 2 minutes. Stir in tomato and spoon sauce over chicken breasts to serve.
Yield
6 servings
serving size
1 chicken breast.
nutritional analysis
Per Serving
Calories
260
Total Fat
11 g
Saturated Fat
2 g
Cholesterol
70 mg
Carbohydrates
13 g
Fiber
3 g
Protein
30 g
Sodium
135 mg