Chicken Tagine with Fennel and Chickpeas
This stew packs a punch of sweet and savory flavors.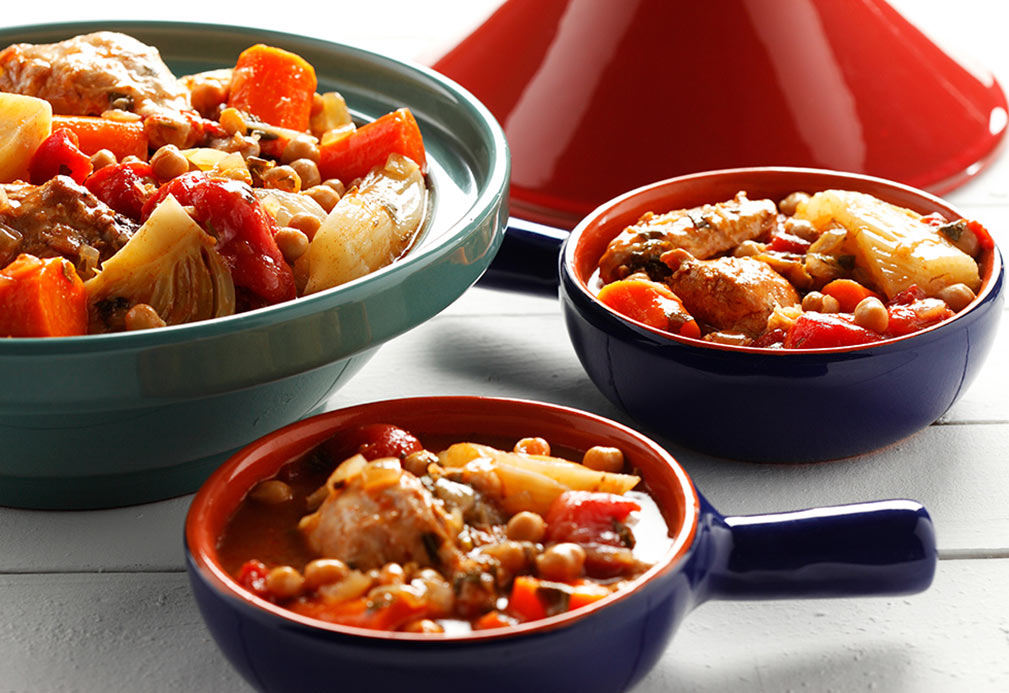 Ingredients
1/4 cup canola oil, divided 60 mL
2 large onions, chopped
3 cloves garlic, chopped
2 Tbsp grated lemon zest 30 mL
2 tsp ground coriander 10 mL
2 tsp paprika 10 mL
2 tsp ground cumin 10 mL
2 tsp ground ginger 10 mL
1/4 tsp each cinnamon and cayenne pepper 1 mL
1/2 cup chopped parsley 125 mL
1/4 cup chopped fresh mint 60 mL
2 lbs chicken pieces 1 kg
3 cups low sodium chicken broth 750 mL
2 fennel bulbs, trimmed and cut into wedges
6 carrots, cut into large chunks
1 (19oz/540mL) can chickpeas, drained and rinsed
1 (28oz/796mL) can unsalted tomatoes
pepper to taste
Instructions
1. Heat 2 Tbsp (30 mL) canola oil in large skillet over medium high heat. Add onions, reduce heat and saute until translucent, about 5 minutes.
2. Meanwhile measure out all spices and herbs. Transfer onions to large pot. Add spices and herbs to onions in the pot.
3. Meanwhile, in same skillet that was used to saute the onions, heat 2 Tbsp (30 mL) more canola oil over medium high heat. Add chicken pieces and cook until lightly browned, about 8 to 10 minutes. Transfer chicken to pot with onions and herbs. Add broth to pot. Bring to a boil. Add fennel, carrots, chickpeas and tomatoes. Cover pot and reduce heat to low. Simmer until chicken is cooked and all vegetables are tender, about 20 to 30 minutes.
4. Uncover, remove chicken and vegetables with slotted spoon to a serving dish. Keep warm. Boil sauce until reduced, about 10 to 15 minutes. Season with pepper. Return chicken and vegetables to the pot. Heat ingredients through and serve in soup bowls.
Yield
8 servings
serving size
2 cups (500 mL)
nutritional analysis
Per Serving
Calories
380
Total Fat
12 g
Saturated Fat
1.5 g
Cholesterol
75 mg
Carbohydrates
35 g
Fiber
6 g
Sugars
7 g
Protein
32 g
Sodium
390 mg
Potassium
1012 mg