Chickpea Salad with Seared Sirloin
This addictive salad's texture and flavor will make your mouth sing. It's a great way to use up leftover steak or grilled vegetables. Plan ahead and make a double batch of cauliflower so you can add it to other salads or enjoy it on its own as a side dish. Canola oil's neutral taste lets the vinaigrette's lime flavors shine.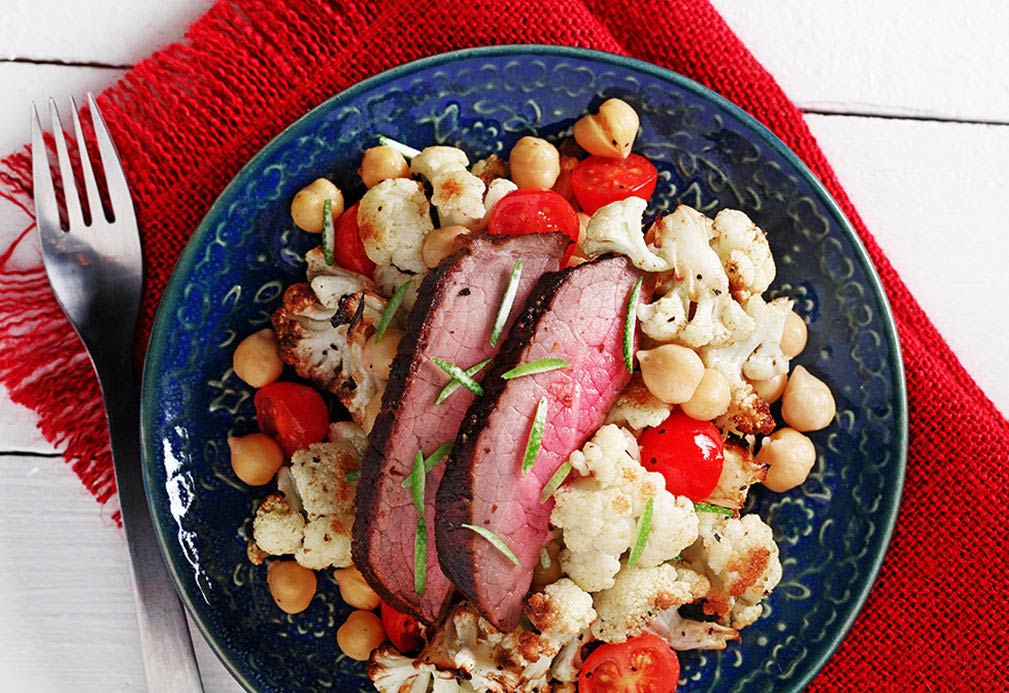 Ingredients
1 sirloin steak (12 oz/375 g), about 1½ inches (3 cm) thick
1 Tbsp chopped fresh cilantro 15 mL
1 tsp chili powder 5 mL
canola oil cooking spray
1 small head cauliflower
3/4 tsp cumin 4 mL
1/4 tsp ground black pepper or cayenne 1 mL
1 can (19 oz/540 mL) chickpeas, drained and rinsed
1 cup halved grape tomatoes 250 mL
1 Tbsp canola oil 15 mL
1/2 tsp grated lime zest 2 mL
2 Tbsp lime juice 30 mL
Instructions
1. Trim any visible fat from steak. Combine cilantro and chili powder. Lightly cover steak with canola oil cooking spray and rub spice mixture over steak and let stand for 10 minutes. 
2. Meanwhile, slice cauliflower into four thick slices. Cover slices with canola oil cooking spray and sprinkle with cumin and pepper. 
3. Preheat grill to medium heat. On oil-sprayed grill, place cauliflower, turning occasionally for about 20 minutes or until tender crisp and golden. Remove to cutting board. Chop coarsely and place in bowl. 
4. Increase grill to medium -high heat and grill steak for about 8 minutes, turning a couple of times until still pink inside (or grill until desired doneness). Remove to cutting board and let rest for 3 minutes before slicing thinly. 
5. To cauliflower, add chickpeas and tomatoes. In another small bowl, whisk together canola oil, lime zest and juice. Drizzle over salad and toss to combine. Serve salad on plates and top with sliced steak.
Yield
4 servings
serving size
1 steak and 3/4 cup (175 mL) salad
nutritional analysis
Per Serving
Calories
190
Total Fat
6 g
Saturated Fat
1 g
Cholesterol
35 mg
Carbohydrates
17 g
Fiber
4 g
Protein
17 g
Sodium
250 mg