Roasted Tomato and Farro Side Dish
This side dish can easily be served alongside your favorite roast or grilled chicken or fish. If you have leftovers, enjoy it cold with some cooked chickpeas or lentils for a hearty vegetarian meal. Just a bit of canola oil helps all the flavors meld.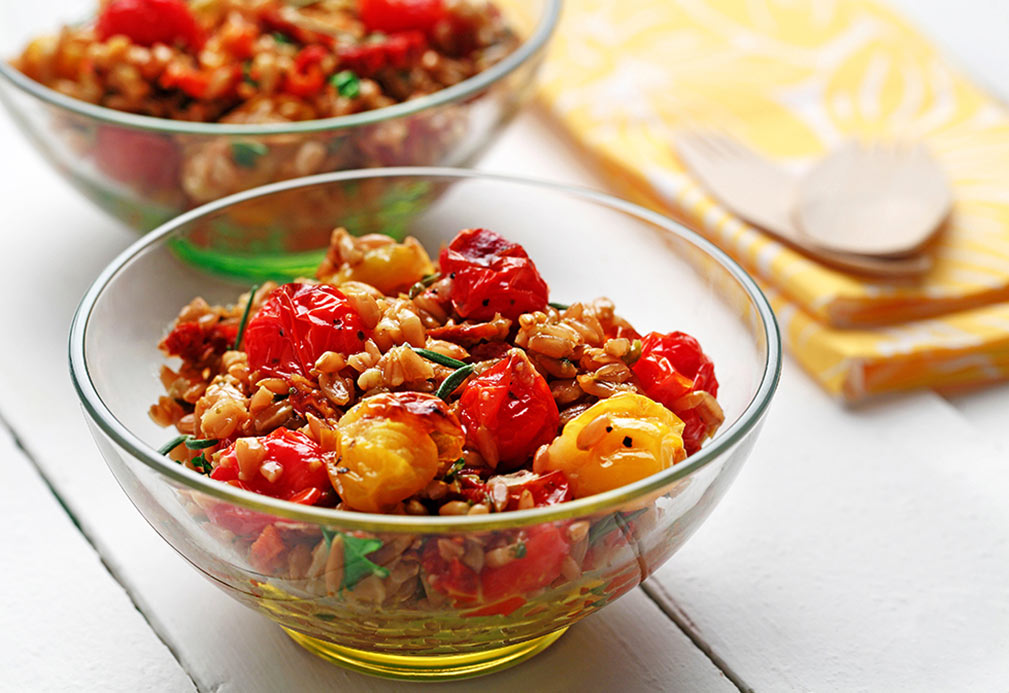 Ingredients
2 pints grape tomatoes
4 cloves garlic, minced
1 1/2 tsp chopped fresh rosemary 7 mL
2 Tbsp no-salt-added vegetable or chicken broth 30 mL
1/4 tsp ground black pepper 1 mL
 
Farro
1 cup farro* 250 mL
2 cups sodium-reduced vegetable or chicken broth 500 mL
3 Tbsp chopped fresh parsley, divided 45 mL
1 clove garlic, minced
1/4 cup chopped sundried tomatoes (not in oil) 60 mL
1 Tbsp canola oil 15 mL
1 Tbsp white balsamic vinegar 15 mL
2 Tbsp shaved Asiago 30 mL 
Instructions
1. Preheat oven to 400 °F (200 °C). 
2. In medium bowl, toss together tomatoes, garlic, rosemary, broth and pepper. Onto parchment paper-lined baking sheet, spread tomatoes and roast for 30 minutes. Set aside to cool. 
3. Meanwhile, in saucepan, bring farro, broth, 1 Tbsp (15 mL) parsley and garlic to boil. Reduce heat to simmer; cover and cook for about 15 minutes or until farro is tender but still firm. Remove from heat and stir in sundried tomatoes; cover and let stand for 5 minutes to rehydrate tomatoes. 
4. In large bowl, combine tomatoes with farro and drizzle with oil and vinegar. Toss to coat and sprinkle with Asiago.
Tip: Farro is a wheat grown in Italy but now available worldwide. Barley is a great substitute if you can't find it.
Yield
8 Servings
serving size
1/2 cup (125 mL) roasted tomatoes and 1 1/2 cups (375 mL) farro mixture
nutritional analysis
Per Serving
Calories
310
Total Fat
3.5 g
Saturated Fat
0.5 g
Cholesterol
0 mg
Carbohydrates
64 g
Fiber
13 g
Protein
9 g
Sodium
70 mg