Chilled Roasted Yellow Pepper Soup
Don't let this chilled soup fool you. It is still packed with lively flavors! Canola oil's mildness helps the taste of these fresh ingredients shine.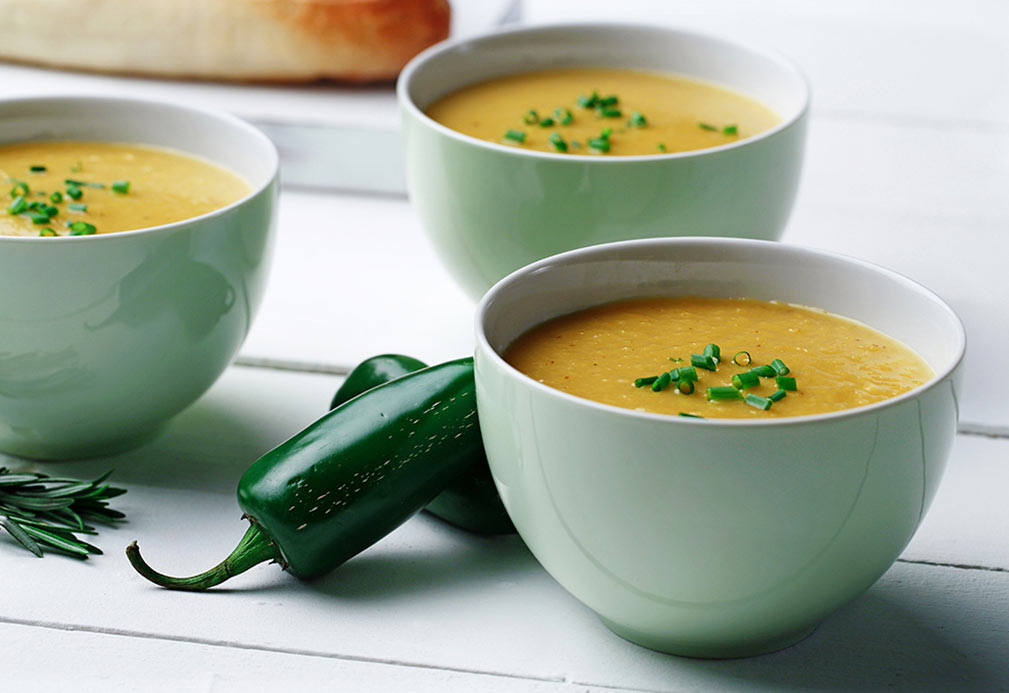 Ingredients
6 yellow peppers
1/4 cup canola oil 60 mL
1 small onion, chopped
1 jalapeño, cored and seeded
1 Tbsp chopped fresh rosemary 15 mL
1 1/2 cups chicken or vegetable broth 375 mL
1/2 tsp brown sugar 2 mL
1/2 tsp salt 2 mL
1/4 tsp ground black pepper 1 mL
1/4 cup chopped fresh chives 60 mL
Instructions
1. Preheat oven to 400 °F (200 °C).
2. Roast peppers on baking sheet in oven. Turn peppers every 10 to 15 minutes until browned and wrinkled, about 60 minutes. Place peppers in plastic bag and cover with dishtowel. Let sit for 5 minutes. Remove seeds and skin from peppers.
3. In large saucepan, heat canola oil over medium heat. Add onion, jalapeño and rosemary. Cook, stirring frequently, until onion is golden brown. Add peppers, broth, sugar, salt, black pepper and two cups of water. Bring to a simmer, cover and reduce heat to low and cook for 5 minutes. Cool lightly and blend. Strain pureé into bowl and refrigerate, covered, at least 3 hours.
4. Once chilled, season pepper soup with salt and pepper. Serve in chilled bowls and garnished with chives.
Yield
6 servings
serving size
1 cup (250 mL)
nutritional analysis
Per Serving
Calories
164
Total Fat
11 g
Saturated Fat
1 g
Cholesterol
0 mg
Carbohydrates
14 g
Fiber
4 g
Sugars
9 g
Protein
3 g
Sodium
300 mg
Potassium
435 mg