Classic Split Pea Soup
This timeless soup will have your guests green with envy over your culinary skills.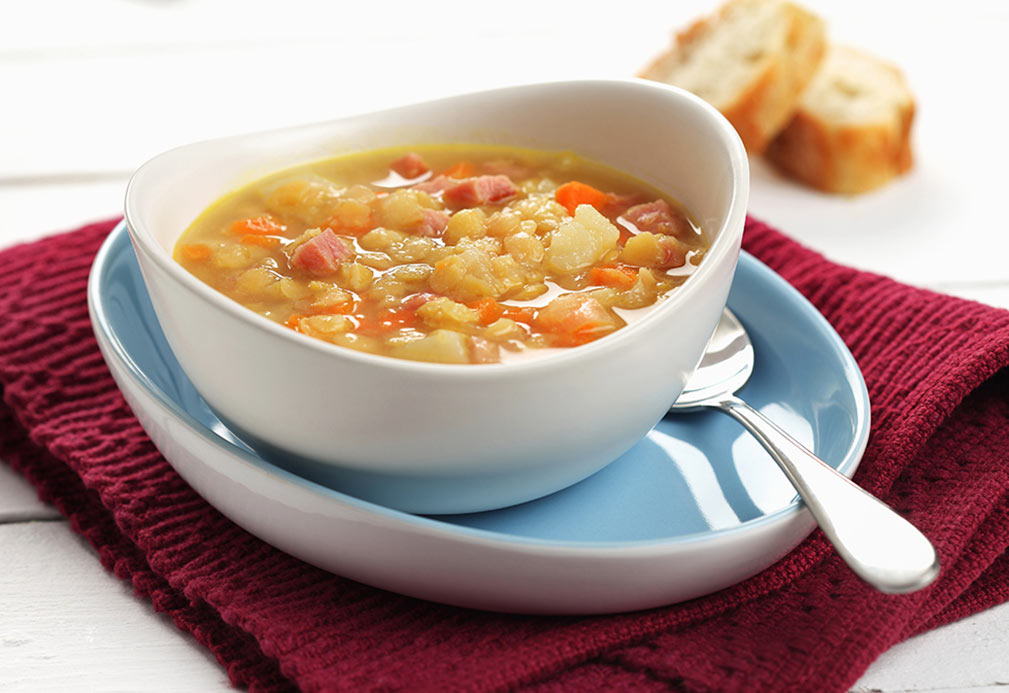 Ingredients
1 1/2 Tbsp canola oil 20 mL
1/2 cup chopped onion 125 mL
3/4 cup diced carrot 175 mL
3/4 cup diced potato 175 mL
1 cup yellow split peas 250 mL
4 cups water 1 L
4 packages( 4 1/4 oz/6.5 g each) light instant chicken bouillon
1/2 cup diced cooked ham 125 mL
1 bay leaf
1/8 tsp ground black pepper 0.5 mL
Instructions
1. In large saucepan, heat canola oil over medium-high heat and add onion, carrot and potato. Sauté until vegetables are tender.
2. Add split peas, water, bouillon, ham and bay leaf.
3. Bring to boil; reduce heat; cover and allow to simmer for about 45-60 minutes or until peas are tender and soup has thickened. Stir occasionally. Remove bay leaf. Add pepper just before serving.
Yield
6 servings
serving size
1 cup (250 mL)
nutritional analysis
Per Serving
Calories
200
Total Fat
6 g
Saturated Fat
1 g
Cholesterol
10 mg
Carbohydrates
26 g
Fiber
10 g
Protein
12 g
Sodium
460 mg