Chipotle and Honey Glazed Ribs
Ribs are a classic favorite for a summertime barbecue. In this recipe, they're slow-cooked in the oven with an aromatic herb and garlic paste, then finished off on the grill with a smoky chipotle chile and honey mustard glaze. Canola oil's mildness helps all those flavors pop and its high smoke point is just right for the grill.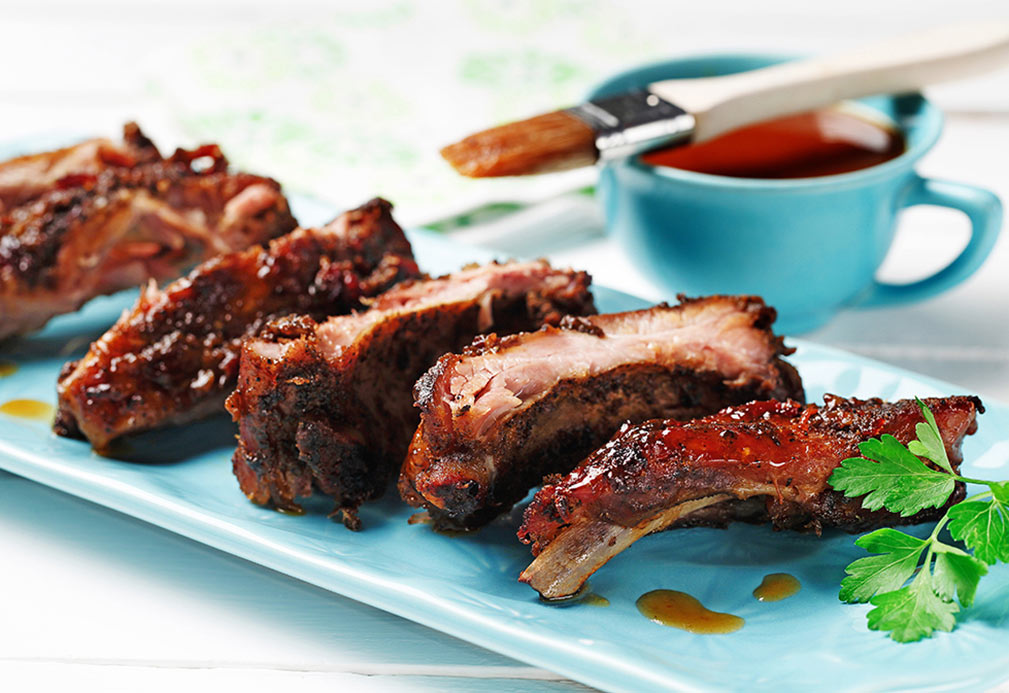 Ingredients
Spice Paste
1 Tbsp cumin 15 mL
1/2 Tbsp coriander 7 mL
1/2 Tbsp ground oregano 7 mL
1 tsp smoked paprika 5 mL
2 tsp onion powder 10 mL
1 Tbsp ground coffee 7 mL
3 Tbsp mustard powder 45 mL
1 Tbsp sea salt 15 mL
1 tsp ground black pepper 5 mL
2 Tbsp canola oil 30 mL
4 garlic cloves, finely minced
2 full racks (about 4 lbs/2 kg) baby back or side ribs
Chipotle BBQ Sauce
1/4 cup finely chopped canned chipotle chiles in adobo sauce 60 mL
2 Tbsp canola oil 30 mL
1/4 cup honey 60 mL
1 Tbsp Dijon mustard 15 mL
Instructions
1. Preheat oven to 350 °F (180 °C).
2. In blender or food processor, mix cumin, coriander, oregano, paprika, onion powder, coffee, mustard, salt, pepper, canola oil and garlic. Pulse until paste forms.
3. Place double layer of foil on large, rimmed baking sheet. Place ribs on top and rub over top and bottom with spice paste. Use foil to wrap ribs tightly and bake on sheet until meat is fork-tender, 2 1/2 to 3 hours.
4. Meanwhile, in mixing bowl, whisk together chipotle sauce ingredients until well blended. Heat grill to medium-high and lightly oil hot grates. Remove ribs from foil, letting excess liquid drip off. Brush ribs with sauce and grill until lightly charred, 2 to 3 minutes per side. Cut between bones to separate ribs and serve with remaining sauce.
Yield
8 servings
serving size
1 cup (250 mL)
nutritional analysis
Per Serving
Calories
670
Total Fat
49 g
Saturated Fat
17 g
Cholesterol
160 mg
Carbohydrates
13 g
Fiber
1 g
Sugars
8 g
Protein
45 g
Sodium
1120 mg
Potassium
620 mg