Citrus Chili Pork Roast
Do not completely eliminate hot pepper because results will not be as intended.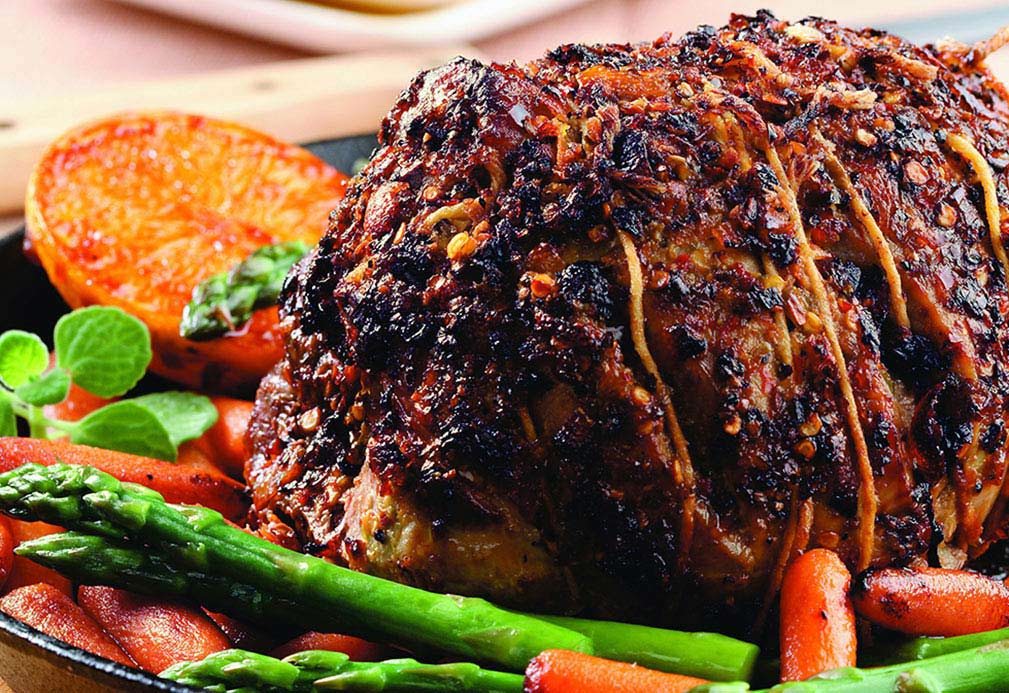 Ingredients
Marinade:
1 fresh orange (juice and skin)
2 cloves garlic
1 Tbsp crushed chile flakes 15 mL
2 Tbsp canola oil 30 mL
1 tsp black pepper, freshly ground 5 mL
1 tsp coarse salt 5 mL
1 tsp granulated sugar 5 mL
1 fresh jalapeno pepper, seeded
Meat
2 lb leg of pork or roast, deboned 1kg
Salt and pepper to taste
Instructions
1. Peel orange, discard white skin and chop peel into small pieces. Squeeze orange and reserve juice.
2. In food processor, blend together orange peel, reserved juice, garlic, chili flakes, canola oil, pepper, salt, sugar and jalapeno pepper until ingredients form smooth paste.
3. To prepare pork, make incisions into leg or roast. Sprinkle with salt and pepper. Cover with orange paste and refrigerate overnight.
4. Preheat oven at 325 °F (160 °C). Place the pork on rack in roasting pan. Add 1 cup (250 mL) water. Roast for 1 to 1 1/2 hours or until internal temperature reaches 160 °F (70 °C). Wait 10 minutes before slicing
Tip: For sensitive diners, eliminate half crushed chile or jalapeno. Do not eliminate all, as results will not be as intended. This dish can also be served cold on sandwiches.
Yield
8-10 servings
serving size
nutritional analysis
Per Serving
Calories
270
Total Fat
12 g
Saturated Fat
3 g
Cholesterol
90 mg
Carbohydrates
4 g
Fiber
<1 g
Protein
35 g
Sodium
350 mg