Coconut Raspberry Cake
Baking with canola oil can reduce your saturated fat intake.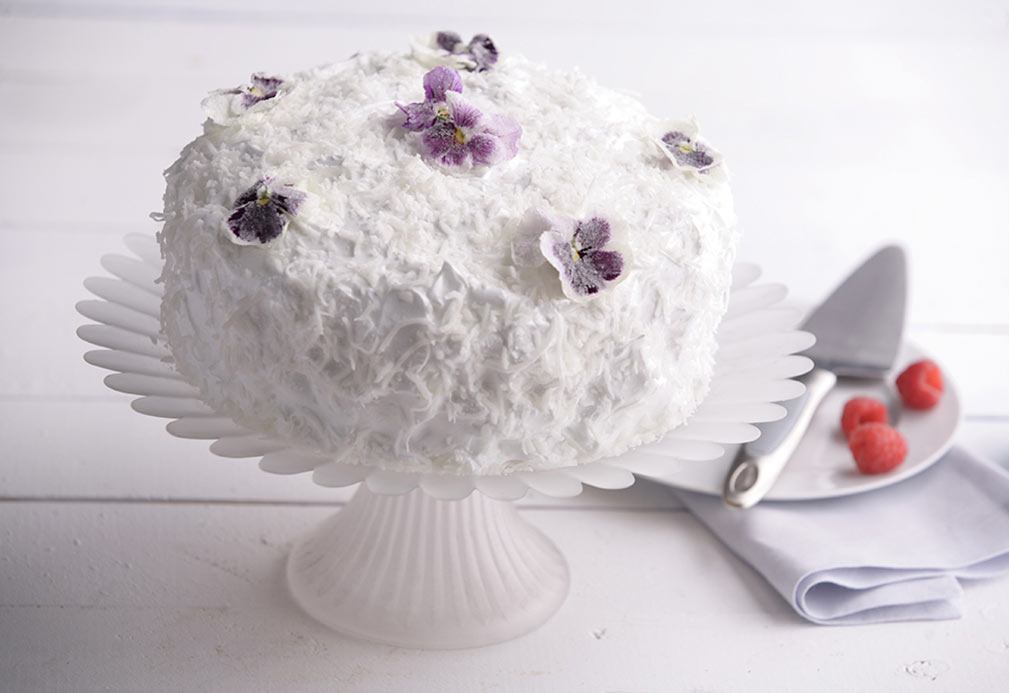 Ingredients
Cake
canola oil cooking spray
1 (18oz/515g) pkg white cake mix
1/3 cup canola oil 75 mL
1 cup water 250 mL
3 eggs
1/3 cup tropical coconut rum 75 mL
1 tsp coconut extract 5 mL
1/2 cup flaked coconut 125 mL
1 to 1 1/2 cups raspberry jam 250 to 375 mL
Frosting
1 1/2 cups granulated sugar 375 mL
1/3 cup cold water 75 mL
2 egg whites
1/4 tsp cream of tartar 1 mL
1 tsp coconut extract 5 mL
1 cup coconut 250 mL
Instructions
1. Preheat oven to 350 °F (180 °C). Spray two 9 inch (23 cm) layer pans with cooking spray.
2. Combine cake mix, canola oil, water, eggs, tropical coconut rum and coconut extract in a large bowl. Beat on medium speed for 2 minutes. Pour into layer pans.
3. Bake for 25 minutes or until tester comes out clean. Cool 10 minutes on wire rack. Remove cakes from cake pans, carefully remove waxed paper and cool cakes completely on wire racks.
Frosting:
4. In the top of double boiler combine sugar, water, egg whites and cream of tartar.Beat with mixer on low speed for 30 seconds.
5. Place over boiling water (upper pan should not touch water). A metal bowl placed over a saucepan with simmering water works well. Cook, beating constantly with the mixer on high speed, about 7 minutes until frosting forms stiff peaks. Remove from heat. Add coconut extract. Beat 2 to 3 minutes more until frosting meets spreading consistency.
6. Place one cake layer on serving platter. Spread with raspberry jam. Set second layer on top of first layer. Spread top and sides of cake with frosting. Press coconut over top and sides of cake. Store cake in refrigerator.
Yield
8 servings
serving size
1 serving
nutritional analysis
Per Serving
Calories
490
Total Fat
16 g
Saturated Fat
4.5 g
Cholesterol
55 mg
Carbohydrates
82 g
Fiber
<1 g
Protein
5 g
Sodium
350 mg