Cranberry Orange Cheese Pie
A fantastic cheese pie, perfect for any fall holiday table. Canola adds to the silkiness of this decadent creamy pie.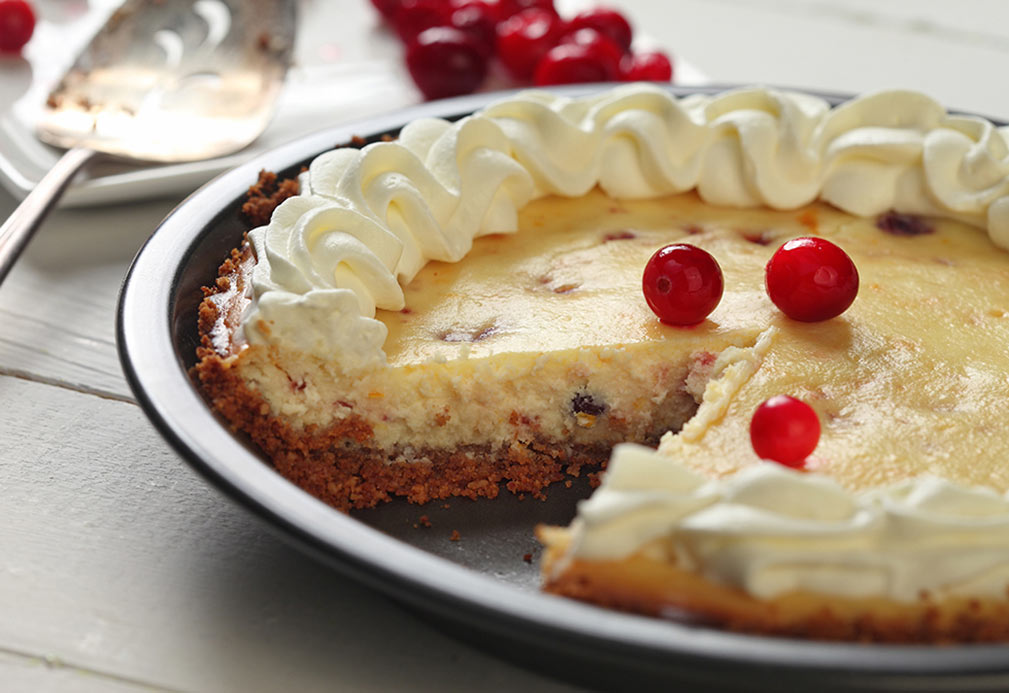 Ingredients
Crust:
3/4 cup pecan halves 175 mL
1/2 cup graham cracker crumbs 125 mL
2 tsp canola oil 10 mL
Filling:
1 lb cream cheese, softened 500g
3/4 cup granulated sugar 175 mL    
2 large eggs
2 Tbsp canola oil 30 mL
2 Tbsp freshly squeezed orange juice 30 mL
1 Tbsp orange zest 15 mL
1/3 cup canned whole cranberries 75 mL
Decorating/Topping:
2/3 cup canned whole cranberries 150 mL
1 cup whipped cream 250 mL
Instructions
Crust:
1. Preheat oven to 325 °F (160 °C).
2. In food processor fitted with the metal blade, process pecans and graham crackers until fine about 1 minute. Place in bowl, combine with canola oil until it resembles like wet sand. Press evenly into the bottom and sides of a 9-inch (22 cm) pie plate.
3. Place into preheated oven, bake until dry and light brown looking, about 15 minutes. Place on a cooling rack to cool while preparing the filling.
Filling:
4. For the filling: In mixing bowl fitted with the paddle attachment on medium speed, blend cream cheese and sugar until smooth. Add eggs one at a time until thoroughly blended. Add oil, orange juice and orange zest into mixture. Remove from mixer and fold in cranberries with a rubber spatula.
5. Scrape mixture into baked pie shell. Place into preheated oven; bake until top is lightly brown and slightly cracking, about 40 to 45 minutes. Place on a cooling rack for at least 1 hour to cool completely.
6. Place cranberries into center of cooled pie. Pipe whipped cream around the edge.
Tip: You can freeze the entire pie for up to 2 months prior to decorating. Cover pie completely in plastic wrap, then wrap with aluminum foil.
Yield
8 servings
serving size
1 serving
nutritional analysis
Per Serving
Calories
510
Total Fat
37 g
Saturated Fat
15 g
Cholesterol
130 mg
Carbohydrates
41 g
Fiber
2 g
Protein
7 g
Sodium
240 mg