Key Lime Pie
You will feel like you are in the sunshine of the Florida Keys! If you are unable to locate key limes, regular lime juice will do the trick.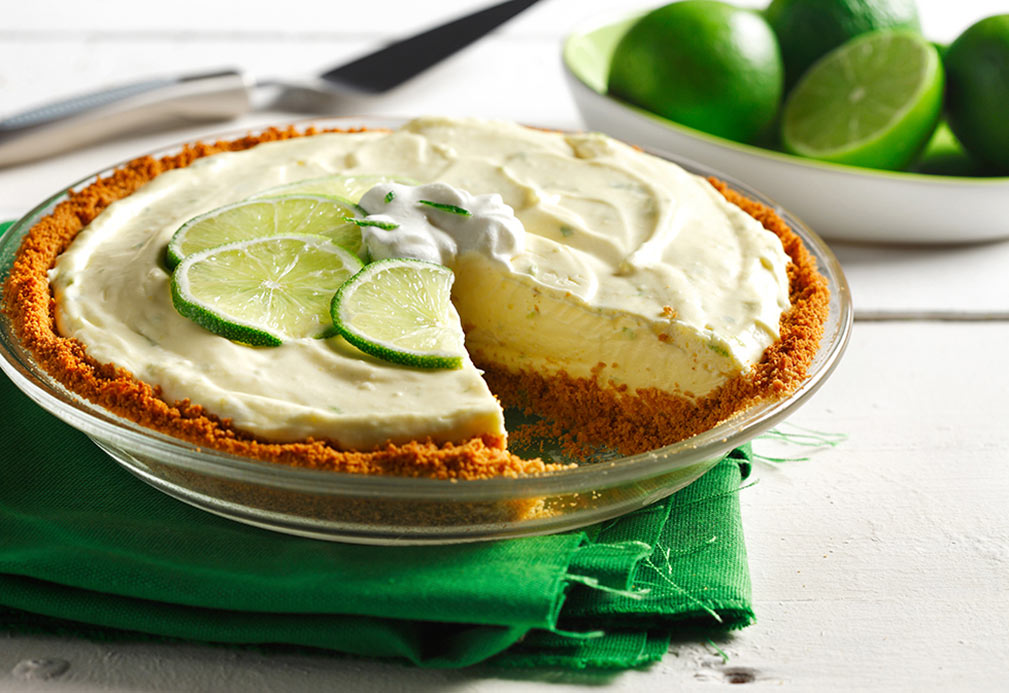 Ingredients
Crust
1 1/4 cups graham cracker crumbs, crushed 300 mL
3 Tbsp canola oil 45 mL 
Filling
5 large    egg yolks
2 Tbsp     canola oil 30 mL
1/2 cup   granulated sugar 125 mL
1/3 cup   fresh key lime juice 75 mL
2 Tbsp     lime zest 30 mL
2 cups     heavy cream 500 mL
Instructions
1. Preheat oven to 350°F (180°C). 
2. In a bowl, combine graham crackers and canola oil, press into 9-inch (22cm) pie pan, bake in preheated oven for 12 minutes or until slightly golden brown.
3. In a double boiler, combine egg yolks, canola oil, sugar and lime juice. Cook for 10 minutes over a simmering water bath on medium heat, whisking occasionally until thickened. Remove from heat and add lime zest. Chill this mixture until it becomes thicker, about 20 minutes.
4. Whip cream to soft peaks. Fold about 3/4 of the cream into firmed lime mixture. Pour this into the pre-baked pie crust.
5. Chill until firm, about 30 minutes. Top with remainder cream. 
Yield
 8 servings
serving size
1 slice
nutritional analysis
Per Serving
Calories
430
Total Fat
35 g
Saturated Fat
16 g
Cholesterol
195 mg
Carbohydrates
26 g
Fiber
1 g
Sugars
17 g
Protein
4 g
Sodium
90 mg