Caribbean Grilled Pork with Tropical Salsa
This tangy, sunny dish will help you feel that summer is just around the corner.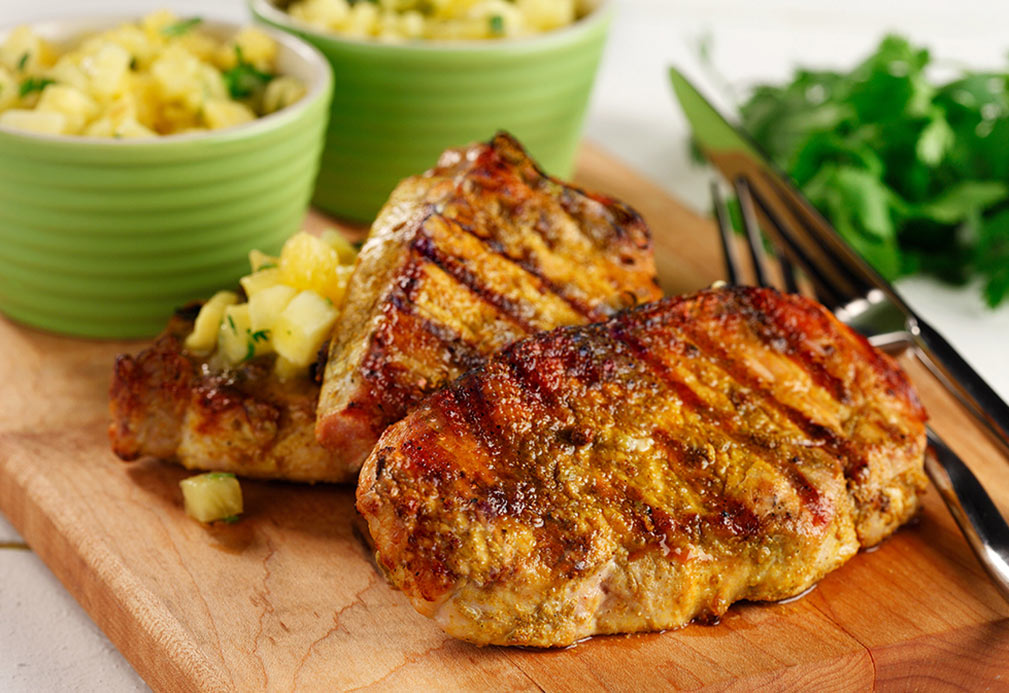 Ingredients
For salsa:
1 small pineapple, peeled, cored and diced (about 2 cups / 500 mL)
1 medium orange, peeled and diced
2 Tbsp fresh cilantro, minced 30 mL
Juice of half a fresh lime
For meat:
½ Tbsp sucralose brown sugar blend 7 mL
2 tsp minced garlic, 10 mL
2 tsp minced ginger, 10 mL
2 tsp ground cumin 10 mL
2 tsp ground coriander 10 mL
½ tsp turmeric 2 mL
2 Tbsp canola oil, 30 mL (plus more to oil the grill)
6 pork loin chops
Instructions
1. Make salsa by combining pineapple, orange, cilantro and lime juice in bowl. Set aside. Can be prepped up to 2 days in advance and refrigerated.
2. Make rub for pork chops: In small bowl, combine brown sugar blend, garlic, ginger, cumin, coriander and turmeric. Do not omit turmeric as it lends a lovely yellow hue to this dish.
3. Brush both sides of pork chops with canola oil and apply rub to both sides.
4. Preheat barbecue to medium-high. Place pork chops on grill for about 5 minutes per side or until cooked to internal temperature of 160 °F (70 °C).
5. Serve each chop accompanied with 1/3 cup (75 mL) salsa. 
Yield
6 servings
serving size
1 pork chop and 1/3 cup (75 mL) salsa.
nutritional analysis
Per Serving
Calories
210
Total Fat
10 g
Saturated Fat
2 g
Cholesterol
50 mg
Carbohydrates
10 g
Fiber
2 g
Sugars
8 g
Protein
19 g
Sodium
65 mg
Potassium
376 mg