Chunky Grilled Vegetable Guacamole
The best thing to say about this recipe is Yum! Enjoy this delicious guacamole as a snack or appetizer with a few whole grain tortillas. It's also nice as a side to grilled fish, chicken or any Mexican dish. Ole!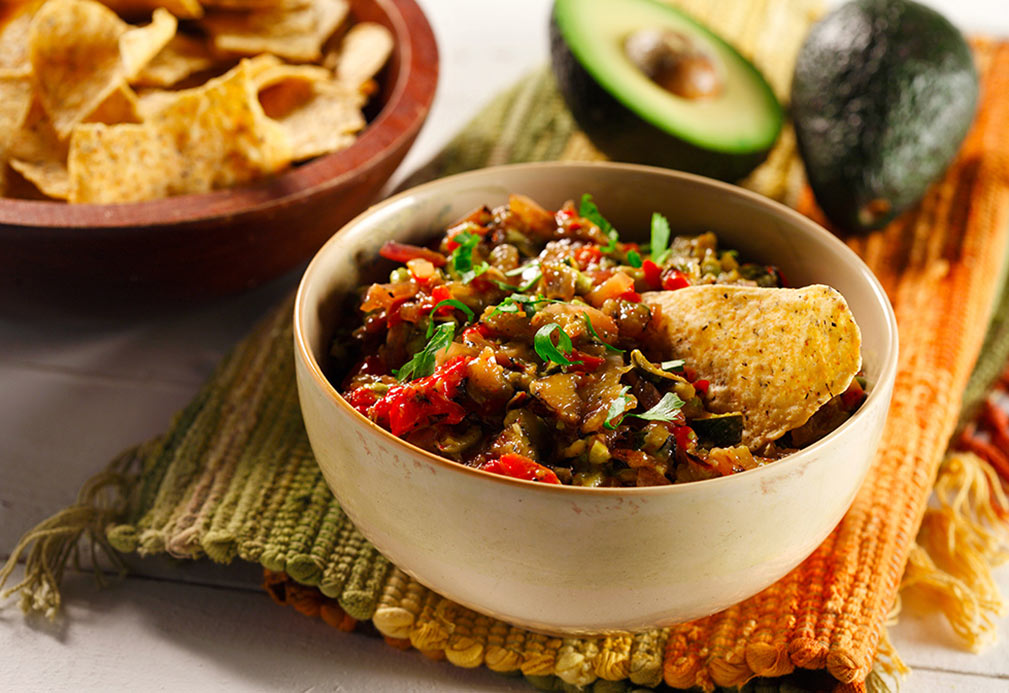 Ingredients
2 Tbsp canola oil, divided (plus more for the grill) 30 mL
1 small zucchini, cut lengthwise in 3 long strips
1 red bell pepper, cored, seeds removed, sliced in half
1 just ripe avocado, peeled, sliced in half
½ small red onion, sliced in half
juice of 1 lime
¼ cup cilantro, minced 60 mL
Instructions
1. Prepare grill by brushing with canola oil. Preheat grill to medium-high.
2. Lightly brush both sides of vegetables with 1 Tbsp (15 mL) of the canola oil. Place zucchini strips, bell pepper, avocado and onion halves on the grill for about 3 to 4 minutes per side.
3. Remove from grill. Finely dice zucchini, pepper and onion. Place in large bowl. Add avocado and mash in.
4. Stir in remaining canola oil, lime juice and cilantro. Refrigerate until serving.
Yield
8 servings
serving size
¼ cup (60 mL)
nutritional analysis
Per Serving
Calories
80
Total Fat
7 g
Saturated Fat
1 g
Cholesterol
0 mg
Carbohydrates
4 g
Fiber
2 g
Sugars
1 g
Protein
1 g
Sodium
0 mg
Potassium
185 mg