Easy Chicken Biryani
A quick and easy version of this traditional East Indian dish! Canola oil's neutral taste allows the spices to shine through.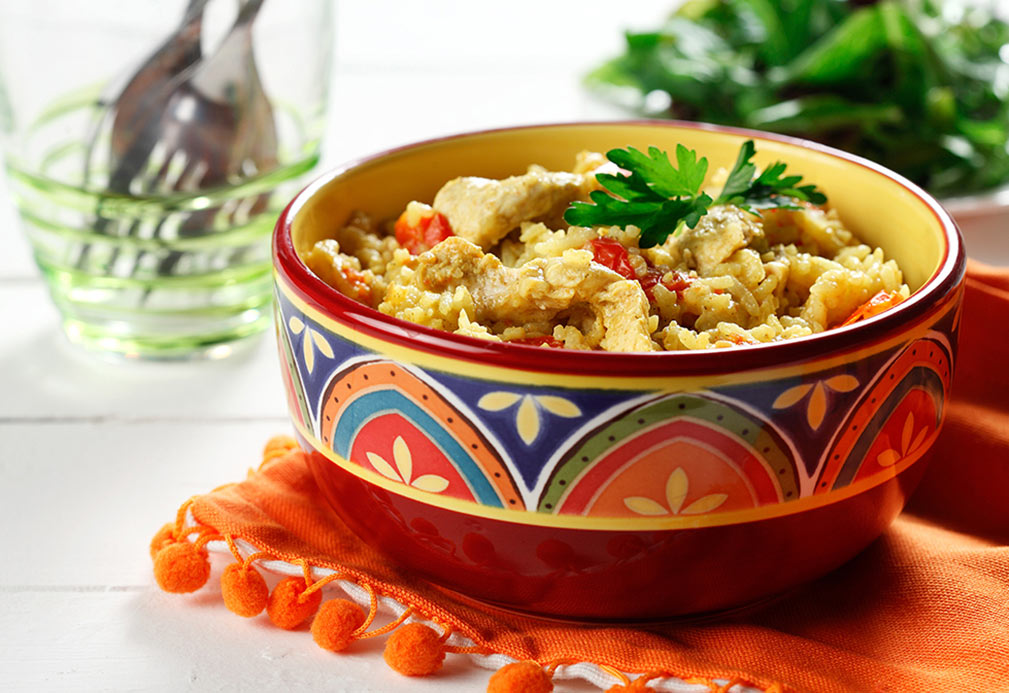 Ingredients
2 Tbsp canola oil 30 mL
1 cup finely chopped onion 250 mL
2 cloves garlic, minced
2 Tbsp finely grated fresh ginger 30 mL
1/2 Tbsp ground cumin 7 mL
1/2 Tbsp ground coriander 7 mL
3/4 tsp ground turmeric 4 mL
1/2 tsp ground cardamom 2 mL
3 cloves
1 cinnamon stick
1 2/3 cup basmati rice, well rinsed 400 mL
1 lb chicken breast, cut into strips 500 g
1/3 cup plain, nonfat Greek yogurt 75 mL
2 fresh tomatoes, diced
3 cups low sodium chicken broth 750 mL
fresh cilantro for garnish 
Instructions
1. In saucepan, heat canola oil over medium-high heat and sauté onion, garlic, ginger, cumin, coriander, turmeric, cardamom, cloves and cinnamon for 2 minutes to bring out flavors.
2. Stirring constantly, add rice, chicken, yogurt, tomato and broth; cover and simmer over medium heat 15 minutes or until rice is tender, chicken is cooked through and liquid is absorbed. Remove from stove and let stand 5 minutes.
3. Garnish with cilantro and serve.
Yield
8 servings
serving size
3/4 cup (175 mL)
nutritional analysis
Per Serving
Calories
280
Total Fat
8 g
Saturated Fat
1.5 g
Cholesterol
50 mg
Carbohydrates
31 g
Fiber
3 g
Protein
22 g
Sodium
75 mg