Endive Salad with Prunes, Stilton and Walnuts
This sweet and savory salad will satisfy almost everyone's taste buds with its complementary flavors and crunchy texture.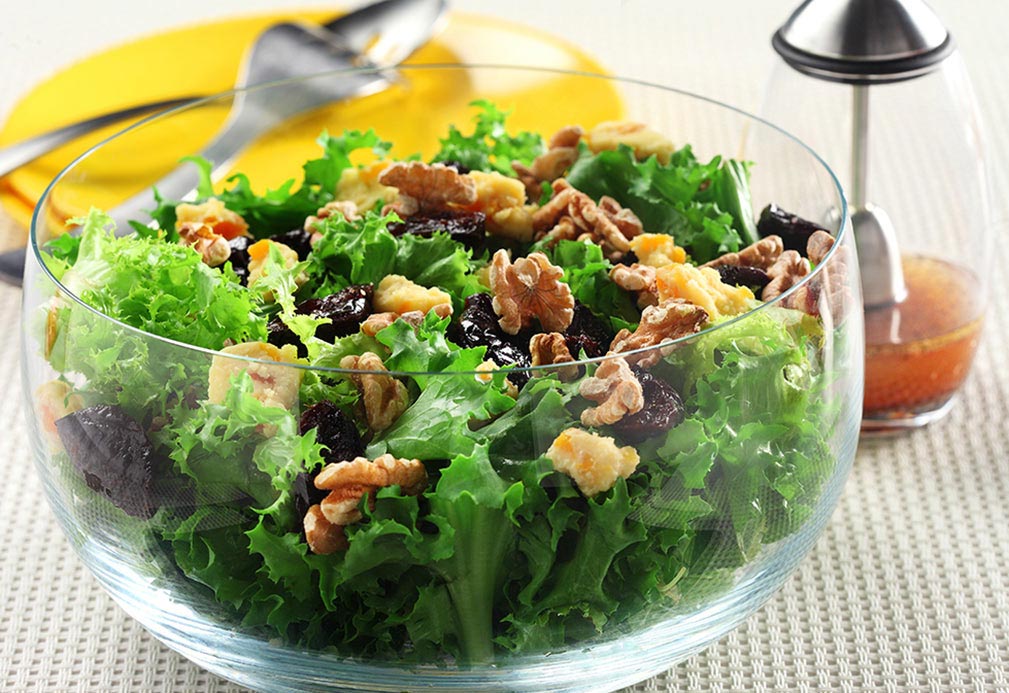 Ingredients
8 cups torn endive 2 L
1/2 cup walnut halves, toasted 125 mL
1 cup prunes, halved 250 mL
4 oz Stilton cheese (preferably with dried apricots), crumbled 125 g
2 Tbsp canola oil 30 mL
3 Tbsp apple cider vinegar 45 mL
2 Tbsp apple juice 30 mL
1 Tbsp honey 15 mL
1/2 tsp ground all-spice 2 mL
1/2 tsp freshly ground black pepper 2 mL
Instructions
1. In large salad bowl, place endive. Sprinkle with walnut halves, prunes and Stilton cheese.
2. In small bowl, whisk together canola oil, vinegar, apple juice, honey and all-spice. Pour dressing over salad and lightly toss. Grind black pepper over salad.
Yield
8 servings
serving size
1/2 cup (125 mL)
nutritional analysis
Per Serving
Calories
200
Total Fat
13 g
Saturated Fat
3.5 g
Cholesterol
10 mg
Carbohydrates
20 g
Fiber
4 g
Protein
5 g
Sodium
210 mg