Zucchini, Squash and Grape Tomato Salad with Basil Vinaigrette
This hearty salad is brimming with fresh produce that boasts a variety of colors, textures and flavors. Grape tomatoes burst with sweetness, zucchini and yellow squash add crunch and the fresh basil vinaigrette pops with flavor. The homemade dressing is lighter than traditional dressings thanks to canola oil while red wine vinegar and Dijon mustard add tang and body.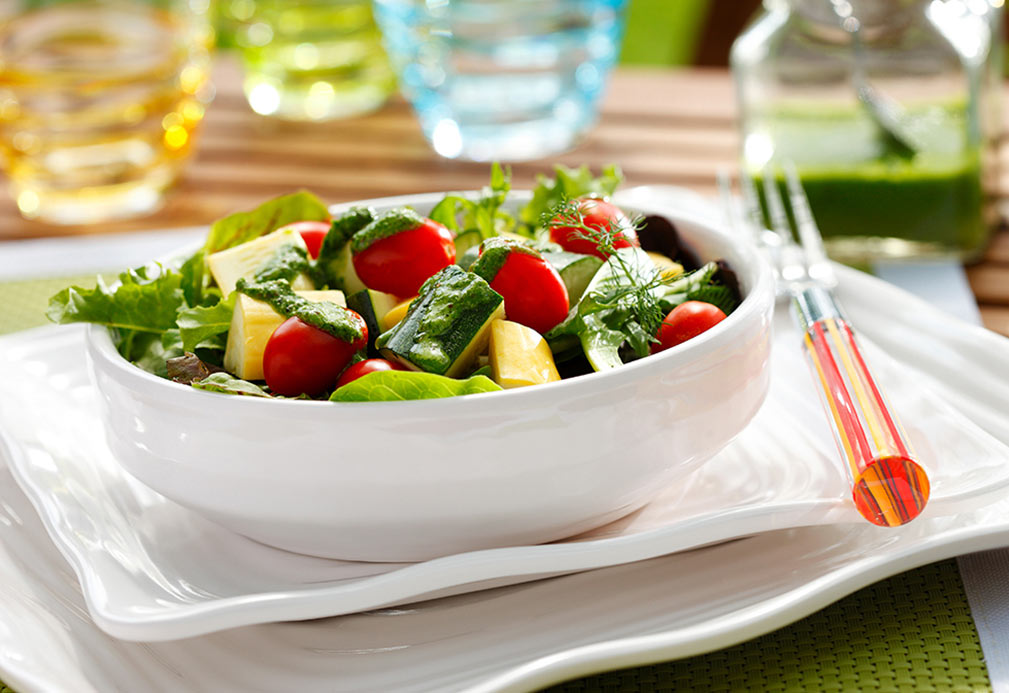 Ingredients
Basil Vinaigrette
1 cup tightly packed fresh basil leaves 250 mL
1/3 cup reduced-sodium chicken broth 75 mL
2 Tbsp red wine vinegar 30 mL
1 Tbsp canola oil 15 mL
1 tsp Dijon style mustard 5 mL
1/4 tsp freshly ground black pepper 1 mL
Salad
1 medium zucchini, quartered lengthwise and chopped into 1-inch (2.5 cm) pieces
1 medium yellow squash, quartered lengthwise and chopped into 1-inch (2.5 cm) pieces
1 cup grape tomatoes 250 mL
4 cups fresh "spring mix" greens 1 L
Instructions
1. In blender, combine basil, broth, vinegar, canola oil, mustard and pepper. Purée until smooth.
2. Transfer mixture to large bowl and add zucchini, yellow squash and tomatoes. Toss to coat vegetables with vinaigrette.
3. Arrange spring mix greens on serving platter. Spoon zucchini mixture and vinaigrette over greens and serve.
Tips: Buy whatever mixed baby greens look the best at the grocery store or farmer's market. It may be any blend of arugula, romaine, mustard greens, frisée and baby lettuce. To make this a complete meal, top the salad with grilled or roasted salmon, turkey tenderloin, lean steak or chicken breast.
Yield
4 Servings
serving size
1 cup (250 mL) vegetable mixture with vinaigrette, 1 cup (250 mL) spring mix greens
nutritional analysis
Per Serving
Calories
60
Total Fat
3.5 g
Saturated Fat
0 g
Cholesterol
0 mg
Carbohydrates
5 g
Fiber
2 g
Protein
2 g
Sodium
60 mg