Garlic Rosemary Pork Tenderloin with Fruit Compote Over Greens
Canola oil infused with lemon and rosemary offers a touch of herb flavoring to both the fruit compote and pork tenderloin. Greens mixed with Brussels sprout leaves are heightened by a splash of grapefruit juice and fennel seeds to convert any said hater of this misunderstood sprout.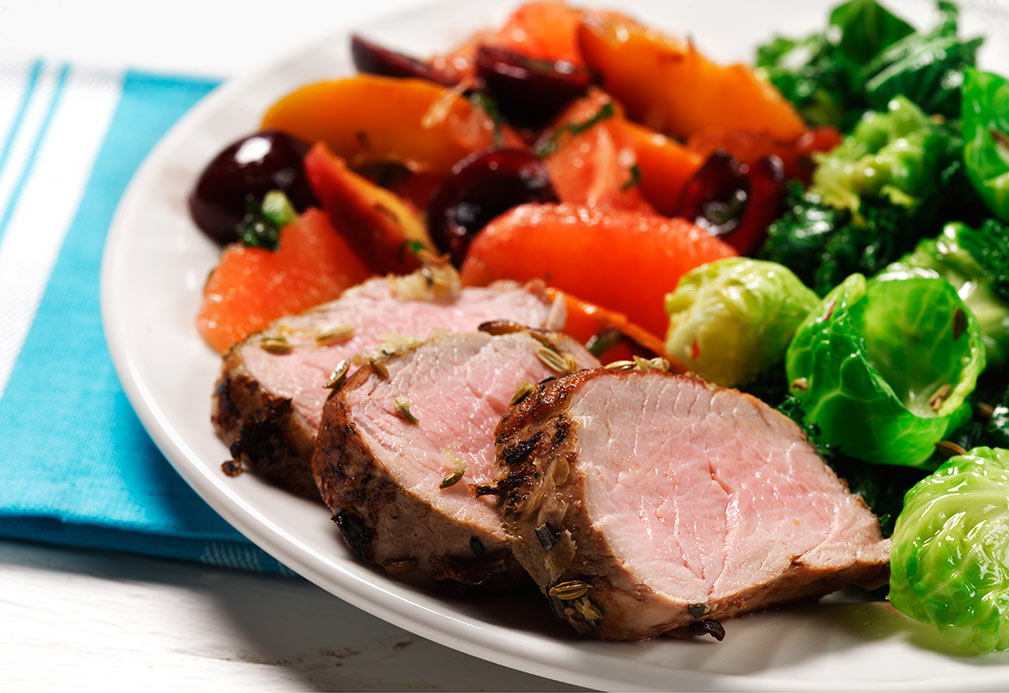 Ingredients
Lemon-Rosemary Canola Oil
3 Tbsp canola oil 45 mL
1 sprig rosemary, about 1 inch (2.5 cm)
1 lemon peel, about 1 inch ( 2.5 cm)
Rub
5 garlic cloves, minced
1 lemon, zest only
3 Tbsp chopped fresh parsley 45 mL
1 Tbsp chopped fresh rosemary leaves 15 mL
1 Tbsp toasted fennel seeds 15 mL
2 tsp lemon-rosemary canola oil 10 mL
1 pork tenderloin, about 1 lb (500 g)
Fruit Compote
2 tsp lemon-rosemary canola oil 10 mL
2 peaches, pitted and sliced lengthwise into wedges
1 Tbsp minced red onion 15 mL
2 tsp lemon-rosemary canola oil 10 mL
1 tsp honey 5 mL
1 tsp finely chopped, seeded jalapeño 5 mL
1 Tbsp finely chopped mint 15 mL
10 cherries, pitted and halved 
1 ruby red grapefruit, sectioned, juice reserved 
Assembly
1 Tbsp lemon-rosemary canola oil 15 mL
10-12 Brussels sprouts, separated into leaves and blanched
2 cups mixed hearty greens (like mustard greens, kale and collard greens), ribs removed and leaves cut into strips 500 mL
2 Tbsp reserved grapefruit juice 30 mL
2 tsp toasted fennel seeds 10 mL
Instructions
1. In microwave-safe glass measuring bowl, add 1/4 cup (60 mL) canola oil and heat on high for 1 minute. Carefully remove from microwave oven and add rosemary and lemon peel. Let steep 30 minutes to 1 hour.
2. In small bowl, combine garlic, lemon zest, parsley, rosemary and fennel seed. Add 2 tsp (10 mL) lemon-rosemary canola oil to make into paste.
3. Rub pork tenderloin all over with two-thirds herb paste. Seal pork in resealable plastic bag and refrigerate 1-2 hours. Reserve remaining one-third paste in refrigerator to use on cooked tenderloin.
4. In medium sauté pan, add 2 tsp (10 mL) lemon-rosemary canola oil and warm over medium-high heat. Add peaches to hot pan, searing 20 seconds on each side. Transfer to medium bowl and set aside.
5. In small bowl, add 2 Tbsp (30 mL) reserved grapefruit juice and mix with minced onion to quickly pickle onion.
6. Preheat oven to 400 °F (200 °C). Remove pork tenderloin from refrigerator and wipe off herb coating from pork.
7. In large, oven-safe sauté pan, warm 1 Tbsp (15 mL) lemon-rosemary canola oil over high heat. Add pork tenderloin to hot sauté pan, cooking on each side until golden brown, about 2-3 minutes per side. Move sauté pan with pork tenderloin into oven to finish and cook until meat thermometer registers 145 °F (63 °C), about 10-15 minutes.
8. Meanwhile, finish compote by combining 2 tsp (10 mL) lemon-rosemary canola oil, honey, jalapeño and mint in a bowl. Remove minced red onion from grapefruit juice and add to mixture. Reserve grapefruit juice for later use. Mix to combine. Add cherries, cooked peaches and grapefruit sections. Toss lightly to coat fruit.
9. When pork is finished cooking, remove from pan and let rest on cutting board. Spread with reserved herb mixture and cover pork with foil to keep warm.
10. Return same sauté pan to stove over medium-high heat. Add Brussels sprout leaves and greens, stirring until all greens are wilted, about 2-3 minutes. Add 2 Tbsp (30 mL) reserved grapefruit juice, stirring to scrape up brown bits. Add fennel seeds and remove from heat.
11. Slice pork into thin medallions. Add cooked greens to center of each plate, arranging pork medallions around greens. Garnish pork with fruit compote and serve. 
Yield
6 servings
serving size
3 oz (90 g) pork tenderloin, 1 1/3 cups (325 mL) fruit compote
nutritional analysis
Per Serving
Calories
230
Total Fat
10 g
Saturated Fat
1 g
Cholesterol
50 mg
Carbohydrates
20 g
Fiber
4 g
Protein
19 g
Sodium
55 mg