Broiled Trout with Lemon Oil & Oven-Grilled Vegetables
The star of this recipe is delicious lemon canola oil, which should be a staple in any pantry. It may be used on fish, in salad dressings, on roasted vegetables and just about anywhere you would use canola oil. Here, it makes this simply prepared broiled trout with vegetables a tasty weekday meal.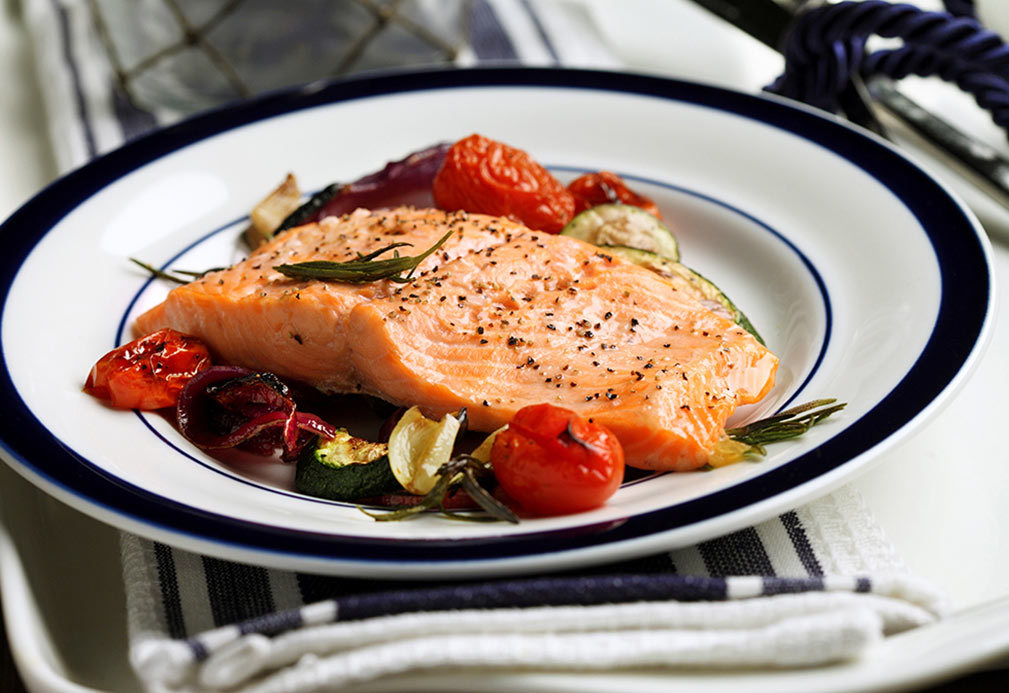 Ingredients
Lemon Canola Oil
1 cup canola oil 250 mL
zest of two lemons, about 2 Tbsp (30 mL)
Assembly
2 small zucchini, cut in half lengthwise, then cut into 1/4-inch (0.5-cm) thick diagonal pieces
1 pint grape tomatoes
1 medium red onion, cut in half and thinly sliced into half moons
4 garlic cloves, peeled and smashed
2 sprigs fresh rosemary
1 Tbsp balsamic vinegar 15 mL
2 Tbsp lemon canola oil 30 mL
1/2 tsp salt 2 mL
1/2 tsp freshly ground black pepper 2 mL
4 rainbow trout fillets (6 oz/170 g each), skin removed
2 tsp lemon oil 10 mL
4 sprigs fresh rosemary, 2 inches (5 cm) long
1/2 tsp freshly ground black pepper 2 mL
lemon wedges for garnishing
Instructions
1. In blender, combine canola oil and lemon zest. Process until smooth, then strain through fine mesh strainer. Store in refrigerator in airtight container or covered jar for 1-2 days. 
2. Preheat broiler. In large bowl, combine zucchini, grape tomatoes, red onion, garlic and rosemary. Drizzle vegetable mixture with balsamic vinegar and lemon canola oil. Toss, then sprinkle with salt and pepper. Spread vegetables in single layer on baking sheet and place 4 inches under broiler for 10 minutes or until vegetables are tender crisp and browned. Halfway through cooking time, toss vegetables.
3. While vegetables are cooking, prepare baking sheet with foil and canola oil cooking spray. Place trout fillets on prepared baking sheet. Sprinkle both sides with pepper and place rosemary sprig under each fillet. Drizzle each fillet with 1/2 tsp (2 mL) lemon canola oil. Place fish under broiler for 7 to 8 minutes or until fish is opaque and flaky. 
4. Carefully lift trout from baking pan with spatula and serve with vegetables.
Yield
4 servings
serving size
1 fillet
nutritional analysis
Per Serving
Calories
310
Total Fat
18 g
Saturated Fat
3.5 g
Cholesterol
75 mg
Carbohydrates
7 g
Fiber
2 g
Protein
28 g
Sodium
55 mg