Golden Pancakes
These homemade pancakes are so light and fluffy. Make them for brunch or even for supper as a special treat! Serve with maple syrup or experiment with other toppings.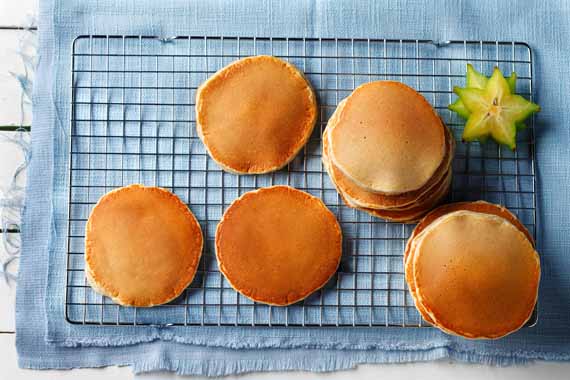 Ingredients
1 1/2 cups all purpose flour or whole wheat flour or a combination 375 mL
3 Tbsp granulated sugar 45 mL
2 tsp baking powder 10 mL
1/2 tsp baking soda 2 mL
1/2 tsp salt 2 mL
1 cup milk 250 mL
2 large eggs
3 Tbsp canola oil (plus more for oiling the pan) 45 mL
Instructions
1. Heat electric griddle to 325 °F (160 °C).
2. In medium bowl, sift flour, sugar, baking powder, baking soda and salt, in a medium bowl.
3. In separate bowl, whisk milk, eggs and canola oil.
4. Pour wet ingredients into the dry and stir until just combined. Do not over mix.
5. Oil electric griddle with canola oil. Pour 1/4 cup (60 mL) batter onto griddle to make pancakes. Cook about 1 1/2 minutes each side (depending on size).
Topping Ideas: Blueberries, yogurt, saskatoons, chocolate chips, bananas, raisins, granola, walnuts, strawberries, peaches, whipped cream and maple syrup.
Yield
12 servings
serving size
1 serving
nutritional analysis
Per Serving
Calories
120
Total Fat
4.5 g
Saturated Fat
0.5 g
Cholesterol
35 mg
Carbohydrates
15 g
Fiber
0 g
Protein
3 g
Sodium
240 mg