Oven Pancake with Sautéed Fruit & Berries
Variations of this dish are served in Austria, Germany and the U.S., where the Pennsylvania "Dutch" (who were German) are said to have introduced it. Traditionally made with apples or raisins, it gets a sunny lift with seasonal fruit and berries. Because it's a one-pan preparation, it's much easier than making individual pancakes or waffles for breakfast or brunch. Be sure to use a skillet with sloped sides rather than a straight-sided sauté pan so that the batter can glide up the sides as it puffs in the oven.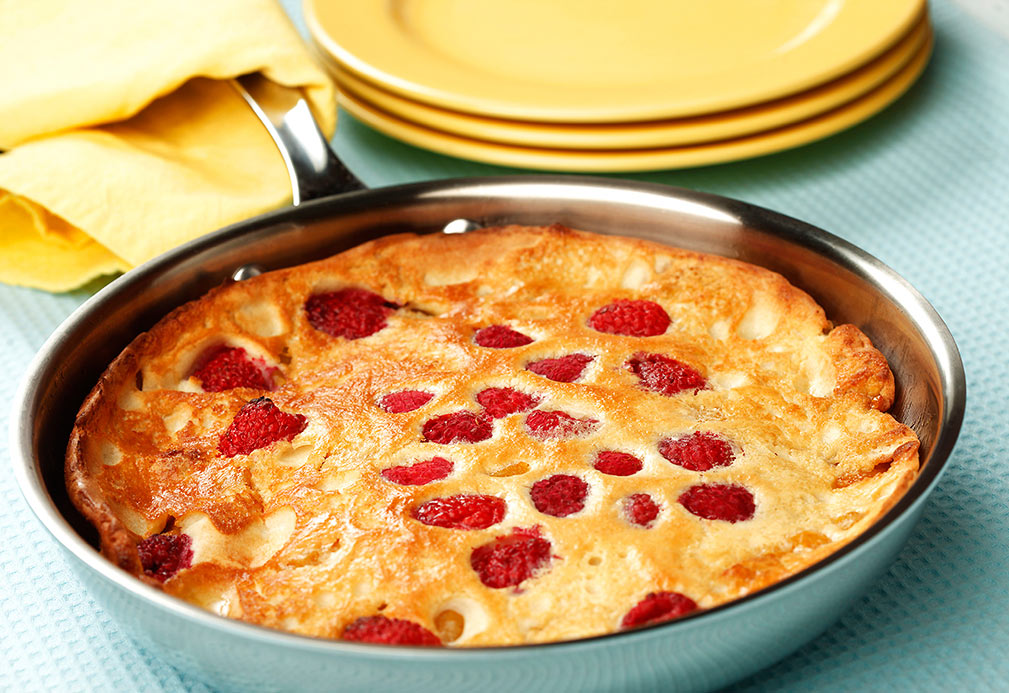 Ingredients
3 Tbsp canola oil 45 mL
3 Tbsp packed light brown sugar, divided 45 mL
1/2 cup low-fat milk (1%) 125 mL
1/2 cup all-purpose flour 125 mL
3 large eggs
1/2 tsp baking powder 2 mL
1/2 tsp almond extract 2 mL
2 firm-ripe peaches, nectarines, pears or apples, cut into 1-inch chunks (about 2 cups/10 oz)
4 oz raspberries, blackberries or halved hulled strawberries 125 g
Powdered sugar or maple syrup
Instructions
1. Position rack in middle of oven and preheat to 400 °F (200 °C).
2. In an ovenproof 10-inch skillet, warm oil over medium-high heat. Tilt pan to coat bottom and sides with oil, then stir in peaches, nectarines, pears or apples. Sauté about 30 seconds until fruit is glistening, then stir in 2 Tbsp (30 mL) of the brown sugar and sauté until sugar melts and fruit looks glossy, about 2 minutes. Turn off heat under pan.
3. In blender, whirl milk, flour, eggs, remaining 1 Tbsp (15 mL) of brown sugar, baking powder and almond extract until blended.
4. In pan, immediately pour egg mixture over fruit. Scatter berries on top of batter and place pan in oven. Bake until puffed and golden, 20 to 25 minutes. Remove from oven and cut into wedges. Dust with powdered sugar or drizzle with maple syrup as desired.
Yield
6 servings
serving size
nutritional analysis
Per Serving
Calories
190
Total Fat
9 g
Saturated Fat
1 g
Cholesterol
70 mg
Carbohydrates
23 g
Fiber
2 g
Protein
5 g
Sodium
70 mg