Greek Style Pocket Sandwiches
Great using fresh pork, but also tasty when leftover cooked pork is marinated, drained, re-heated and served.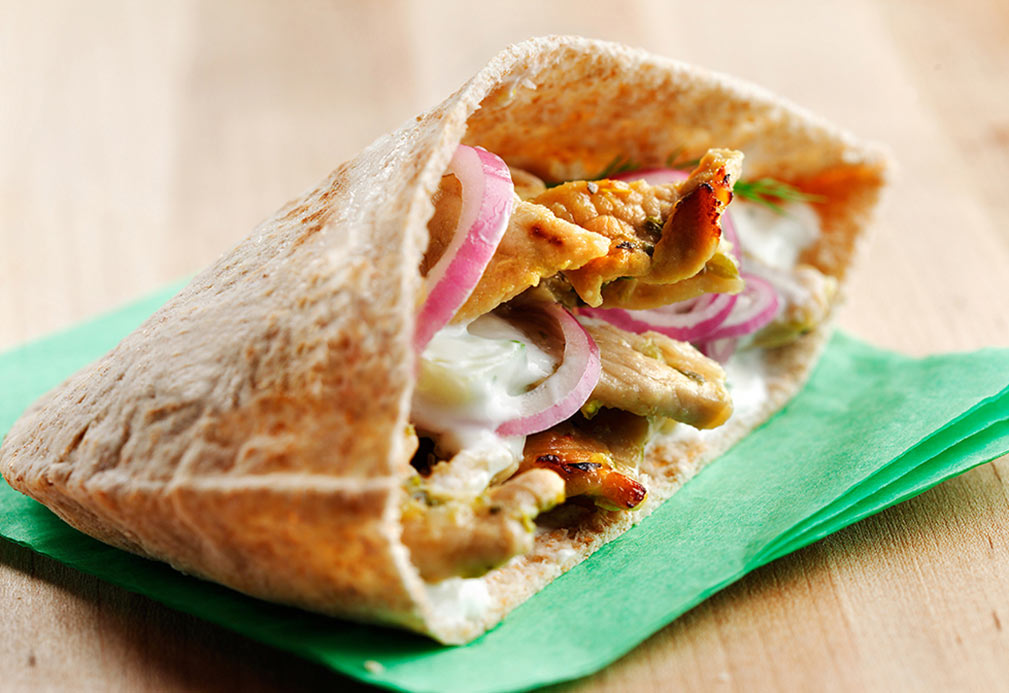 Ingredients
3 Tbsp canola oil 45 mL
1 Tbsp prepared mustard 15 mL
1/2 cup lemon juice 125 mL
2 cloves garlic, minced
1 tsp dried oregano 5 mL
1 lb boneless pork loin, well trimmed and cut into strips 500 g
1 cup low fat yogurt  250 mL
1 cup cucumber, peeled and chopped 250 mL
1/2 clove garlic, crushed
1/2 tsp dried dill 2 mL
2 whole wheat pita breads, halved
1 small red onion, thinly sliced
Instructions
1. In a small bowl, combine canola oil, mustard, lemon juice, garlic and oregano. Pour over pork strips. Cover and refrigerate 1 to 8 hours.
2. In another bowl, combine yogurt, cucumber, second amount of garlic and dill; cover and refrigerate.
3. Drain marinade from pork strips, removing as much marinade from meat as possible (use a strainer or colander). Heat oven to 450 °F (230 °C). Place strips in a shallow pan in the oven for 10 to 12 minutes, or until lightly browned. Remove meat from pan with a slotted spoon and place in pita halves. Top each with a generous spoonful of yogurt mixture and some sliced red onion.
Yield
4 servings
serving size
nutritional analysis
Per Serving
Calories
320
Total Fat
10 g
Saturated Fat
3 g
Cholesterol
75 mg
Carbohydrates
25 g
Fiber
3 g
Protein
30 g
Sodium
290 mg