Cajun Pile Ups with Pepper Sauce
Reminiscent of New Orleans, these sandwiches are ragin' with flavor from the hot sauce and banana pepper.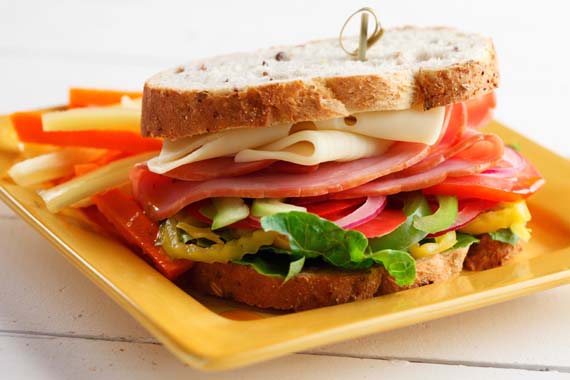 Ingredients
Sauce
1 1/2 Tbsp canola oil 20 mL
2 tsp Louisiana-style hot sauce 10 mL
2 tsp cider vinegar 10 mL
1/4 tsp dried oregano leaves 1 mL
Sandwich
1/2 of (16 oz/ 500g) loaf multigrain Italian bread, cut into 8 slices
4 cups (about 2 oz/ 60g) loosely packed, torn romaine pieces 1 L
2 Tbsp (1 - 2 oz/ 30 - 60 g) pickled mild banana pepper rings, drained 30 mL
1 medium tomato, cut into 4 slices and then halved
1/2 cup thinly sliced red onion 125 mL
1/2 medium green bell pepper, thinly sliced
1/4 lb deli-sliced lean ham 125 g
2 thin slices (1 1/2 oz/ 50 g) reduced-fat Swiss cheese, cut in half
Instructions
1. Combine sauce ingredients in a small bowl and stir until completely blended.
2. Drizzle one side of each bread slice with sauce and top four bread slices (sauce side up) with equal amounts of filling ingredients in the order listed, beginning with torn lettuce. Top with remaining bread slices (sauce side down), press down slightly, and cut each sandwich in half diagonally.
Yield
4 servings
serving size
2 halves
nutritional analysis
Per Serving
Calories
275
Total Fat
10 g
Saturated Fat
2 g
Cholesterol
20 mg
Carbohydrates
30 g
Fiber
5 g
Protein
18 g
Sodium
530 mg