Grilled Lamb Chops with Fresh Ginger Couscous
This company-worthy dish is made by marinating tender lamb chops and serving them over a mound of pearl couscous with heady sweet spices and a generous amount of fresh mint. Canola oil carries the flavors of the lamb rub and keeps the chops from sticking to the grill.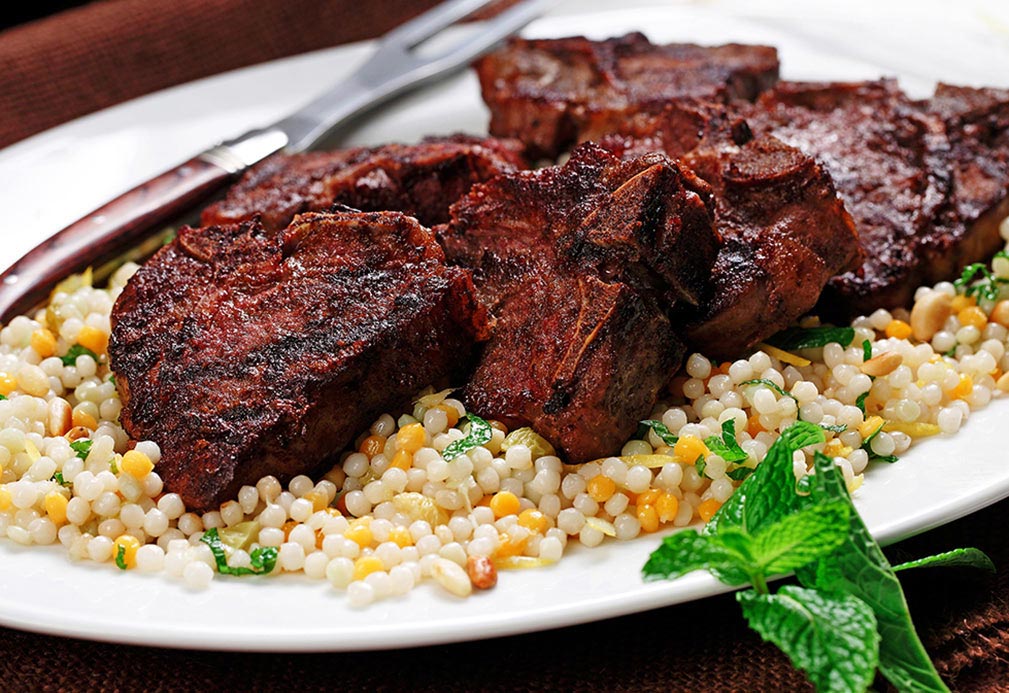 Ingredients
2 tsp canola oil 10 mL
1 Tbsp lemon juice 15 mL
2 tsp cardamom 10 mL
1 tsp cumin 5 mL
1/2 tsp garlic powder 2 mL
8 lamb loin chops, trimmed (about 4 oz/125 g each)
1/4 tsp salt 1 mL
1/4 tsp ground black pepper 1 mL 
Fresh Ginger Couscous
2 Tbsp pine nuts 30 mL
1 cup dry tricolor pearl couscous 250 mL
1 tsp grated lemon zest 5 mL
2 Tbsp golden raisins, cut in half 30 mL
2 tsp grated ginger 10 mL
1 Tbsp canola oil 15 mL
1/4 tsp salt 1 mL
1/2 cup chopped fresh mint or cilantro 125 mL 
Instructions
1. In small bowl, combine 2 tsp (10 mL) canola oil, lemon juice, cardamom, cumin and garlic and rub over both sides of lamb chops. Place in 9 x 13-inch (22 x 33-cm) baking pan, cover and refrigerate 8 hours or overnight. 
2. Coat grill or grill pan with canola oil cooking spray and preheat on medium-high heat. Cook lamb 10 minutes, or to desired degree of doneness, turning occasionally. Sprinkle with 1/4 tsp (1 mL) salt and black pepper. 
3. Meanwhile, in medium saucepan over medium-high heat, toast pine nuts 1-2 minutes or until golden. Set aside on separate plate. 
4. In same saucepan, cook couscous according to package directions. Remove from heat, stir in lemon zest, pine nuts, raisins, ginger, 1 Tbsp (15 mL) canola oil, salt and mint. 
5. Serve lamb on bed of couscous mixture. 
Yield
4 servings (8 lamb chops and 3 cups (750 mL) couscous mixture)
serving size
2 lamb chops and 3/4 cup (175 mL) couscous
nutritional analysis
Per Serving
Calories
350
Total Fat
10 g
Saturated Fat
1.5 g
Cholesterol
65 mg
Carbohydrates
41 g
Fiber
6 g
Protein
27 g
Sodium
360 mg