Grilled Portobello Loaf with Basil Hummus
Toasted bread envelops mushrooms and protein-packed hummus in this unique, vegetarian sandwich.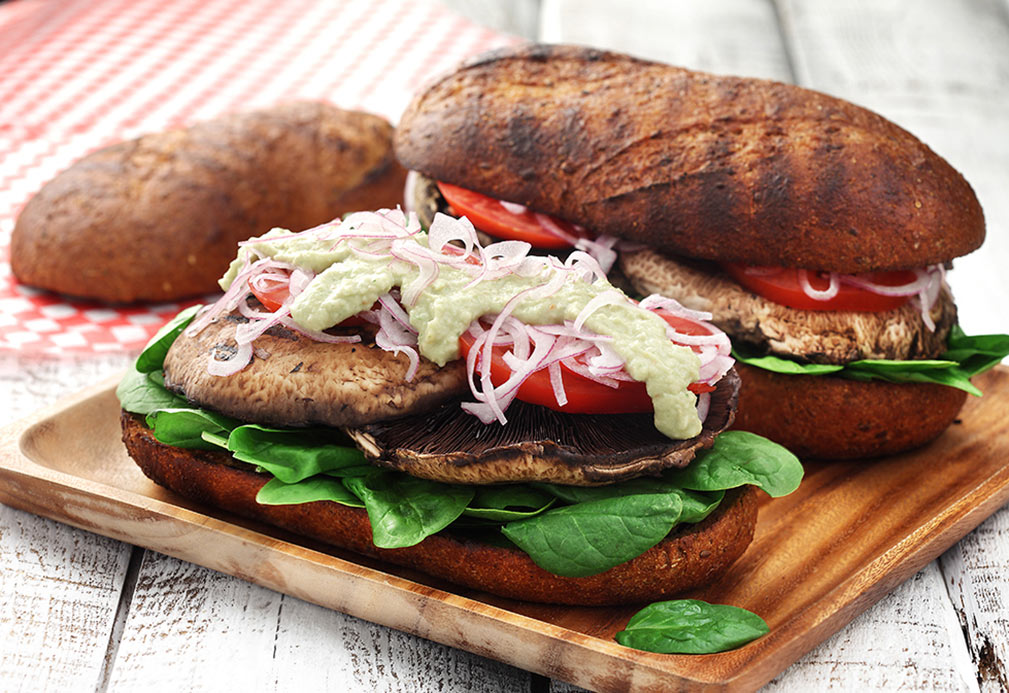 Ingredients
4 large Portobello mushroom caps, wiped clean with damp cloth
Marinade:
3 Tbsp canola oil 45 mL
3 Tbsp cider vinegar 45 mL
3 medium garlic cloves, minced
1/4 cup chopped fresh basil 60 mL
2 tsp Dijon mustard 10 mL
1/4 tsp dried pepper flakes 1 mL
Assembly
1/2 can (15 oz/426 mL) no-salt-added navy beans, rinsed and drained
1 oz (1/4 cup/60 mL) chopped pine nuts, toasted 30 g
1 Tbsp water 15 mL
12 oz whole grain or multigrain Italian loaf bread, halved lengthwise 350 g
canola oil cooking spray
2 medium tomatoes (8 oz/250 g total), thinly sliced
3 cups baby spinach 750 mL
1/2 cup thinly sliced red onions 125 mL
Instructions
1. Place mushrooms on dinner plate. In blender, combine canola oil, vinegar, garlic, basil, mustard and pepper flakes. Secure with lid and pureé until smooth. Brush both sides of mushrooms with 2 Tbsp (30 mL) of pureéd mixture. Let stand 15 minutes.
2. Meanwhile, add beans, pine nuts and water in blender to remaining pureéd mixture in blender. Secure with lid and purée until smooth and set aside. Hollow out top and bottom halves of bread, leaving 1/2-inch-thick shell; reserve torn bread (4 oz/125 g) for another use.
3. Coat grill pan or grill rack with cooking spray, place over medium high heat until hot. Cook mushrooms 5 minutes on each side or until tender. Place mushrooms on separate plate. 
4. Coat both sides of bread halves with cooking spray and cook 1 minute on each side or until beginning to lightly brown. (Be careful not to burn bread halves). Place bread on cutting board. On bottom half of loaf, arrange mushrooms, overlapping slightly. Top with tomatoes, baby spinach and onions. Spread puréed mixture evenly on cut side of remaining top half and place on top of all. Cut crosswise into 4 equal pieces.
Yield
4 servings (1 loaf)
serving size
1/4 slice of loaf
nutritional analysis
Per Serving
Calories
490
Total Fat
19 g
Saturated Fat
2 g
Cholesterol
0 mg
Carbohydrates
64 g
Fiber
9 g
Protein
15 g
Sodium
600 mg