Spicy Korean Tofu and Mushroom Hot Pot
The Korean food craze has hit. Pungent and full of garlic and famed red chili powder, Korean flavors are showcased by neutral tofu and canola oil in this comforting hot pot. It takes the edge off cold weather!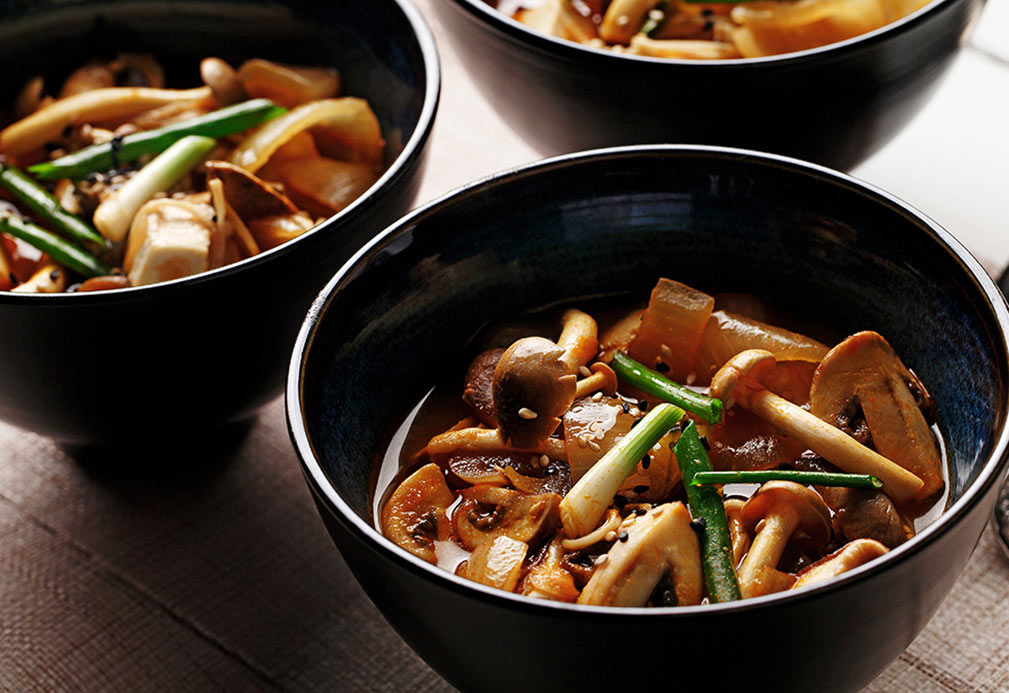 Ingredients
2 Tbsp canola oil 30 mL
3 garlic cloves, minced
1 Tbsp soy sauce 15 mL
2 Tbsp Korean red chili pepper powder or chili paste (gochujang), both available at Asian markets 30 mL
1/2 Tbsp sugar 2 mL
1 Tbsp salt 15 mL
4 cups chicken stock 1 L
1 lb tofu, cut into 2-inch (5-cm) cubes 500 g
4 cups mixed mushrooms (oyster, shiitake, king), cleaned and cut into large pieces 1 L
1 package enoki mushrooms, ends cut off, separated
2 onions, peeled and cut into 1/2-inch (1-cm) thick slices
3 green onions, cut into 1-inch (2.5-cm) pieces
2 large eggs, whisked
1 Tbsp sesame oil 15 mL
1 Tbsp toasted sesame seeds 15 mL
Instructions
1. In wok or deep skillet over medium-heat, add canola oil and sauté garlic until fragrant, about 30 seconds. Then add soy sauce, Korean red chili powder or chili paste, sugar, salt and water or broth. Heat and whisk over medium-high heat until well blended.
2. Carefully add tofu, mushrooms and onions. Cover and bring to a boil, then lower heat and simmer for 5 minutes. Add green onions and cook for another couple minutes. Add whisked egg into mixture and drizzle with sesame oil just before serving. Garnish with sesame seeds. Serve bubbling hot with steamed rice.
Yield
8 servings
serving size
1 cup (250 mL)
nutritional analysis
Per Serving
Calories
140
Total Fat
9 g
Saturated Fat
1 g
Cholesterol
45 mg
Carbohydrates
5 g
Fiber
1 g
Sugars
2 g
Protein
10 g
Sodium
1300 mg
Potassium
170 mg